How to create a client portal with WordPress
In this article we'll be exploring how to create a client portal using WordPress plugins. We'll see how you can use your portal to manage customer interactions, as well as some of the tools that will help you improve and manage your WordPress client portal.
What Is a WordPress Client Portal?
Client portal is a private, protected website where you can share and exchange private information with your clients. It provides a set of collaboration tools that help your clients to share information and communicate efficiently. A client portal is also a used for client management. In short, it's a quick way for your clients to see progress and manage their projects. It is valuable as a self-service tool. Pretty much like an automated and always updated progress report.
What are the benefits of building a client portal?
When you use a WordPress client portal, your own team and your clients will have a single point of contact. You get to know your customers much better, and you have a whole new set of information to work on.
In short, the advantages of a WordPress client portal can be classified as:
Cost reduction – The self-service aspect of this tool reduces client management costs and allows reduction of costs regarding bad communication.
Centralization – Bring customers together. If you have something like a forum or social network, you can bring customers together. It's likely that customers have their own tricks and applications to your product that can be valuable to others and provide self-service options.
Up-Selling, Cross-selling, and recommendations – Since you have now your customer information and access, you can recommend them better products related to what they own.
Knowledge accessible to all customers – Although support is a key feature in most industries, sometimes the user can find quick answers in your site. Docs, tutorials, and other information can be shared with your customers and save time for both sides.
The Wow experience – Tailor made interactions with your customers. For instance, if they search a certain query, send them coupons when these products are on sale. If they have products in their Wishlist, send them discounts or even similar products. Birthdays, special occasions, work anniversaries. It's possible to use a wide range of data in your favour for a better user experience.
Memberships sites – Including client portals on membership sites would be beneficial as it would allow users to manage their profiles, review and change membership plans, subscribe to new services, etc. independently.
Let's see what features you need to have in your client portal. What features should a client portal system provides
There are many good features to keep in mind for the ideal client portal with WordPress. A custom workspace is a good starting point. A workspace can be used to concentrate all assets related to a project, as well as discussions. It works similarly to one of your HD folders, but online.
Building upon the concept of a workspace, a client portal may allow file sharing as well. It can be used as a file sharing tool for individual clients, or even client types. From general demo files for a plugin or theme to custom configuration files for a particular client.
In addition, a client area wouldn't be complete without communication tools. It's possible to allow customer-to-customer communication, private pages access  and private channels as well. This includes docs, tutorials, support, and even requests. Hence, it's possible to get feedback on projects or ideas for future releases.
Client portal as a private, protected website where you can share and exchange private information with your clients.
Furthermore, a customer WordPress portal needs to be able to manage users. Tools related to CRM (Customer Relationship Management) are a great addition. It's possible to track down key influencers in each of your clients. You can gather all their information, projects and actions in a single place. In addition, a CRM can be used to predict future user actions, and act on it. It's an opportunity to build a better relationship, gather feedback or to secure a sale.
Depending on your business, it may be good to have reports and finance management. From payment management to customer niches. Let's see how to do that now.
Best Plugins for Building a Secure WordPress Client Portal
Now that you understand the benefits of using client portals for WordPress sites better, it's time to learn how to build one. Here are 14 helpful plugins for creating a secure WordPress client portal:
All of the above mentioned plugins work within your WordPress site and therefore allow you create an unlimited portals with multiple clients or even unlimited clients. Clients can have their custom login area or use the default WordPress login form.
You can even have your own private client portal where your clients don't have an access to the portal but you can add and create the client accounts manually. This type of setup can be used in more project management or contact management maner.
How to create secure client portal with WordPress and BuddyPress
There are many WordPress client portal plugins. Some of them may not be advertised as such, though. BuddyPress is one of them.
Think about it this way, although is not a dedicated WordPress client portal plugin, BuddyPress turns your site into a social network. Therefore, right off the bat you already have their own workspace. This is accessible using their profile, groups, and pages that they have access to. Furthermore, you have communication tools. Users can send and receive messages. They can add comments to pages (projects) as well.
But in order to get a full WordPress client portal, we need to extend its features using plugins.
For instance, file sharing can be done with a plugin like BuddyDrive: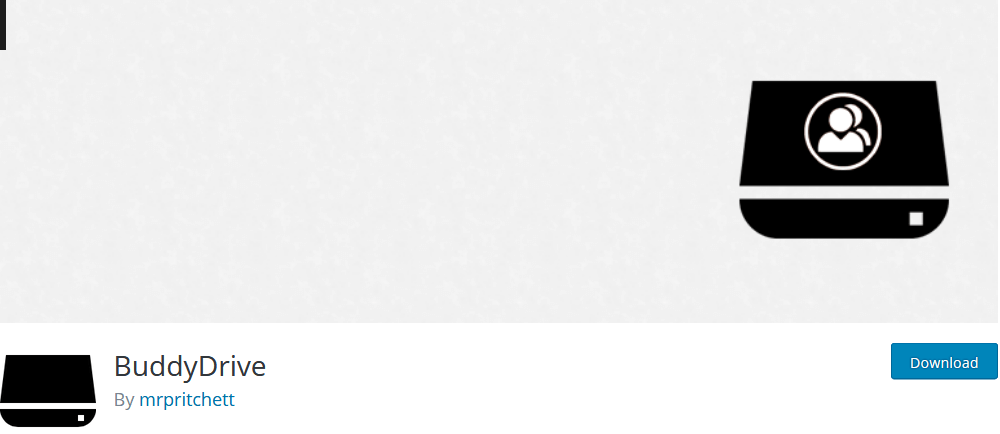 This plugin allows the upload of files that can be shared across multiple users. Files can be set as private, public, group-specific, friends-only, specific members-only.
Then you'll need some tools to improve your collaboration tools. The TaskBreaker plugin is going to help you with that.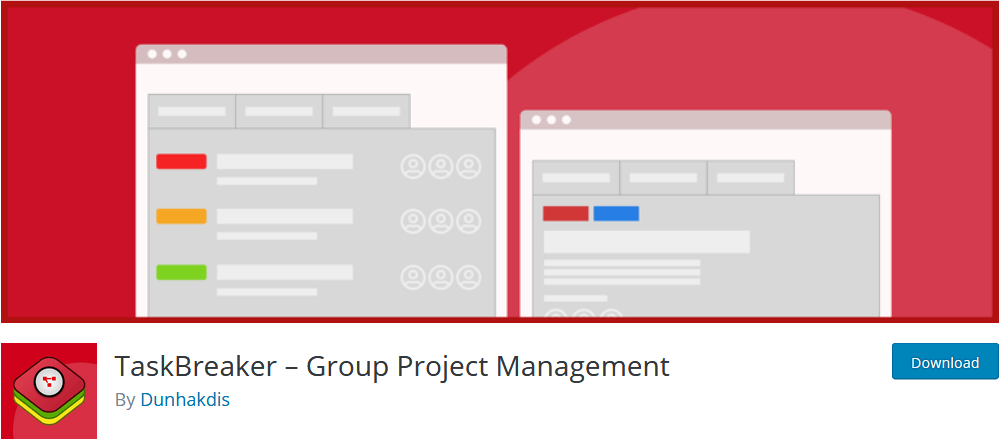 This is a WordPress plugin that adds some project-related functions to BuddyPress. With it, we can create projects, assign them to members, and check the project's progress. The progress is measured through tasks, which can be discussed via comments.
Then we need a tool for our CRM and reporting. For that, we can use Users Insights. We have some guides on how to use Users Insights as a CRM. But you can use the smart filters to get to know your customers a little better. Let's dive into these functions now.
Client Management in your WordPress Client Portal
A big part of your client portal is getting to know your customers. With Users Insights, we can get a better picture of individual users as well as their aggregate behaviour.
When it comes to individual user actions, we can check their user profiles. There we can see everything they have created, such as file uploads and tasks created: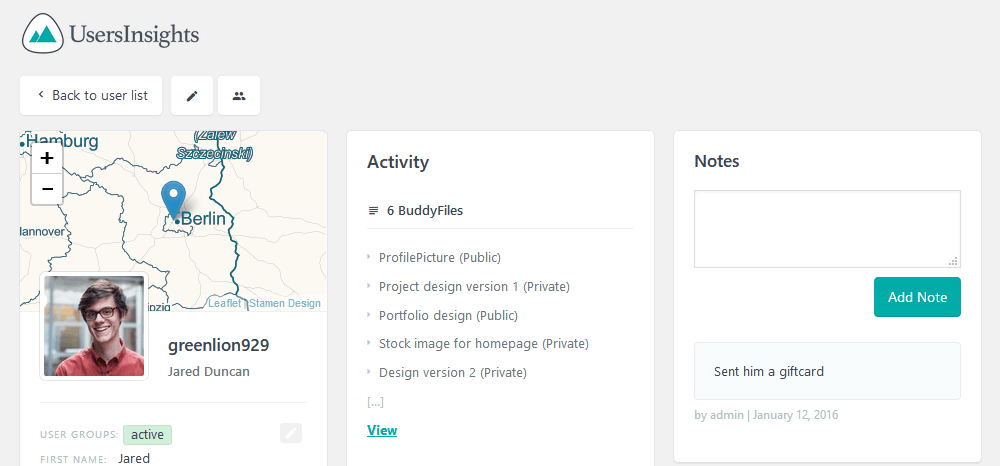 We can check other customer actions, such as their payments made, comments, posts, and other user-generated content. In addition, any custom user fields are going to be shown in their profile. These custom fields are usually created by your own theme or other plugins. They often collect data about your users that can be processed later on.
Then we can see the user actions on the users' table as well. It's possible to filter them by the number of comments created, for instance: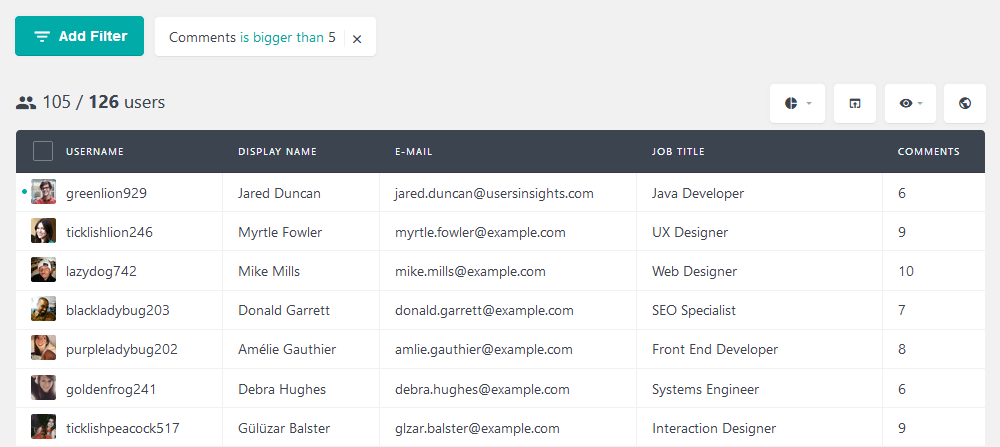 In addition, If we user custom fields to collected some additional customer data we can use them in our filters as well. For example, if you want to filter all the developers on your site you can do so: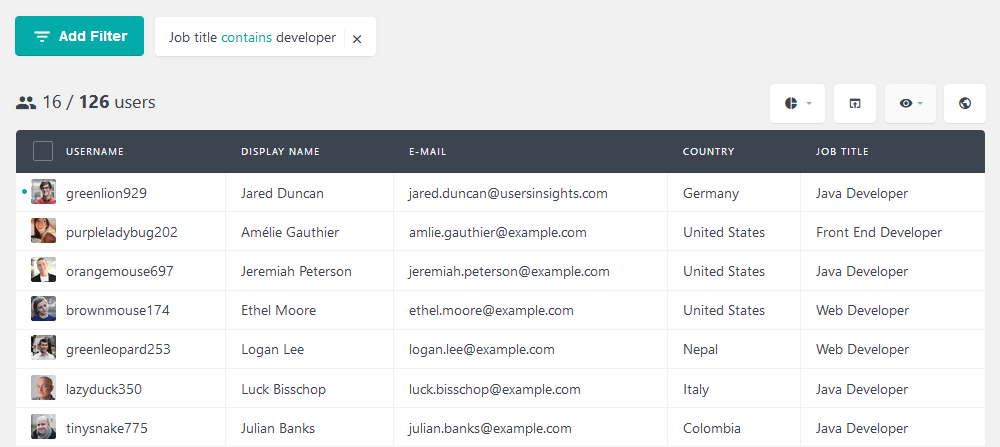 Furthermore, it's possible to collect user submitted data. If you use a plugin such as Gravity Forms, you can enable the User Registration AddOn. Then, it can be used to collect and aggregate user information. It's possible to collect custom fields, by creating a profile form. Hence, you just need to filter out users based on their answers:


However, the true power lies in gathering user feedback. It is possible to gather customer opinions and check this data for individual users. For example, you can collect their feedback on how well your team did on a particular project. This can be even broken down into different tasks, or key aspects of your tool.

This type of information can help improve your client management portal. You know their opinions, and you can use your relationship for even further feedback on problematic points. In addition, this can be used as a feedback tool to praise your team on their good work.
WordPress Customer Portal Reports and Dashboard
Individual user reports are very useful. However, sometimes we need to take a step back and look at the overall results. In these cases, we create our own customer reports and client dashboard. We can do this with the WordPress reports feature of Users Insights that is available in your WordPress dashboard:
There are many different types of reports that can be useful for analyzing customer data. For example, aggregate data can be used to identify customer segments that are most profitable. You can filter your customers by their country, occupation, age, company size, and other criteria. This kind of information helps us to build a more accurate picture of our ideal customers.


To identify our most active customers in our WordPress customer portal, we can review the orders count and lifetime value. If your customer portal is connected with an e-commerce solution, like WooCommerce, this information is easily collected. You just need to activate the WooCommerce module for Users Insights.
Then let's filter users based on their orders. We can order users based on other fields, such as the Lifetime Value by clicking on that column:


In addition, it's possible to get a better picture of the project types we run in our WordPress client portal. This can be done if you collect the project size using a plugin such as gravity forms. We can make that column visible and export our biggest ones:

Users can tag projects with different information types. For instance, it's possible to tag all projects depending on their nature, apps, sites, design. Later on, you can filter all users with design, or app development projects.
As we've mentioned before the occupation is an important field. But others can have some creative uses as well. The main language a user speaks can be a deciding factor as well. For instance, if you notice that you have a lot of Spanish speakers, it may be wise to hire staff who can speak it as well.


Conclusion
Today we investigated many aspects of how to create your WordPress client portals. We dived into different concepts for better client management. We saw how to create your own client portal on your WordPress website, and what are the advantages of doing so.
In addition, we saw some reporting tips, for individual and broader customer analysis. We hope you enjoyed this article and see you again next time!