How to see the most active users on my WordPress site?
There are many ways in which WordPress users activity can be defined. How you are going to measure your users activity essentially depends on the metrics that matter the most for your type of website. For blogs or any kind of website where the content is the product, user activity is usually measured by the number of times a particular user has visited the website or the time he has spent exploring and reading the content of the site. For online shops, users activity is usually related with the number of orders the user has made. When it comes to websites where users can create content, like bbPress forums or BuddyPress online communities, the most active users are considered the ones that have created the most content.
Whatever the most useful metric to track users activity for your website is, it's obvious that not all of your users are will be equally active. Some users will show up once, and never again. While others might be visiting your site many times per day and actively follow any change you make to your website. The most active users on your site are usually, the people who show deep interest about your product and services. Knowing who your power users are can help you to manage your users more effectively.
How to find active users with the Users Insights WordPress plugin
There are many different parameters that can be used to track user activity, but the two most important metrics that show your WordPress users activity are:
Number of sessions
Last seen date
The number of sessions field shows you how many times a particular user has visited your site (while logged in). Ordering your users table by the number of sessions gives you a simple and quick view of your most active users. You can do this by clicking on the sessions field in the Users Insights table.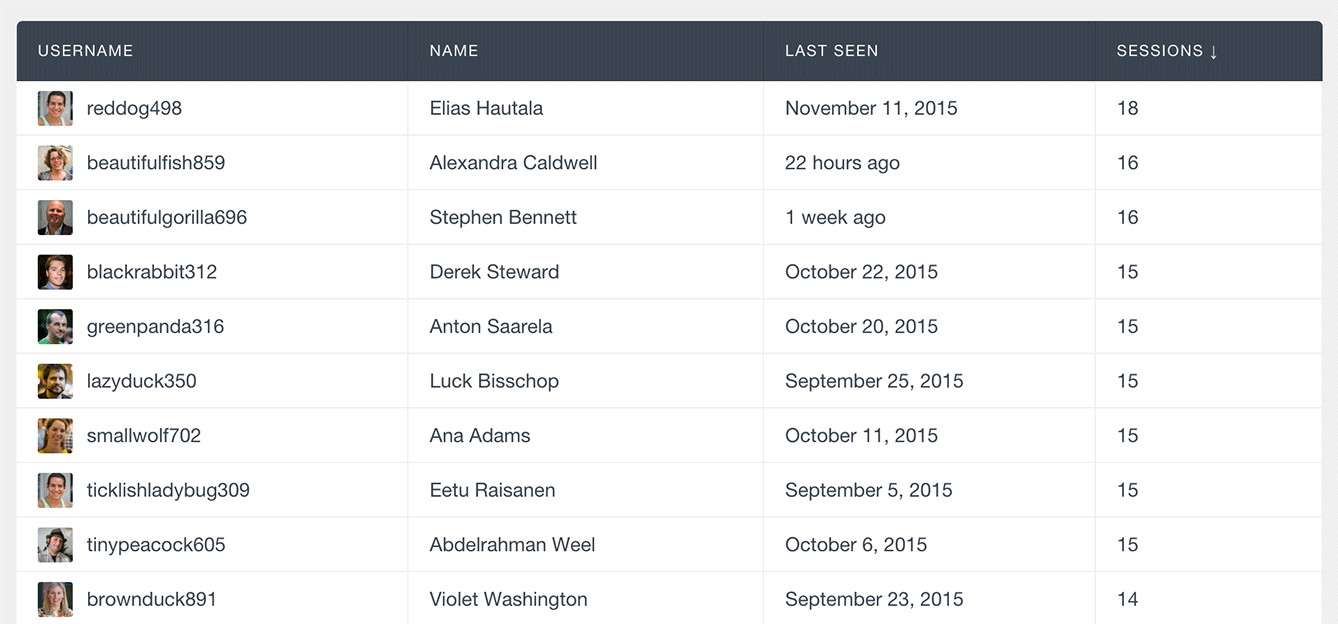 By using the smart filters, you can easily further segment your users data and get more detailed results. For example, if you want to see the list of users that have more than 50 sessions on your WordPress site, all you need to do is add a session field filter and set the condition to be bigger than 50.

The last seen field, as the name suggests, shows the date when the user has last visited your site (while logged in). You can easily order the users list table by "last seen" to see which users have been active most recently. The plugin also detects if the user is currently online and adds a green dot next to the user's name. This is a nice and quick way to see all the users that are currently active (online) on your WordPress site.
Combine the two filters for a more accurate segmentation
You can combine two or more filters to create a more specific user list and to further segment your users data. For example, having the number of sessions for each user can be useful, but this doesn't really show you if that user has been active recently. The combination with the "last seen" filter gives you more precise results. Now you can make a filter that shows you all of the users that have more than 15 sessions and have been active in the last month.

There are various situations when knowing who the most active users on your website are, can be a very useful piece of information:
Maybe you need some customer testimonials for your website from the customers who use and love your product
You might want to run a survey and ask your users to provide some valuable feedback about your products or services
You are planning to run a social media campaign and need some love from your customers
You are launching a new product and need to find people who are willing to do beta testing for you
Or simply you want to reward your most loyal customers by giving some discount coupons or exclusive offers
Here is a short video showing how to find the most active users that have been active in the last 30 days:
If you are running an online store you are probably also interested in your users' shopping activity. The WooCommerce module of Users Insights allows you to track and analyze the shopping activity of your customers. You can search and analyze your customer purchase history, filter your customers by ordered products or filter them by lifetime value.
When running a membership website or a community forum, you are going to be more interested in the activity of content creation and communication of your users. To track and analyze this kind of activity, we need to be able to search and filter our users by the content that they have created. If you are using BuddyPress, you can check our tutorial about how to track and analyze your BuddyPress activity. We have also published a tutorial on how to find your most active Ultimate Members if you are using the Ultimate Member plugin instead.
Whatever the reason is, Users Insights makes it is easy to find your most active users and because these are the users that show greater interest in your product, they are going to be more willing to participate in any activity that involves your website or products.