How to track user activity in WordPress
Being able to track your WordPress users' activity can be very useful in a number of ways. It can help to understand what your WordPress users are doing, pages are they viewing, how long they're there, where they're coming from, what products they are ordering and so on.
Having an insight into your user activity is essential for achieving higher conversion rates and increasing your revenue. By understanding how each of your website's users engage with your content, you can tailor future content on your site to better serve each individual customer.
In this guide we will show you how to track user activity on your WordPress site and how you can learn more about your audience and figure out how they're using your website.
User activity tracking in WordPress
There are many ways in which WordPress users activity can be defined. How you are going to track user activity and thereafter measure your users activity essentially depends on the metrics that matter the most for your type of website. For blogs or any kind of website where the content is the product, user activity is usually measured by the number of times a particular user has visited the website or the time he has spent exploring and reading the content of the site.
How you are going to measure your users activity essentially depends on the metrics that matter the most for your type of website.
For online shops, users activity is usually related with the number of orders the user has made. When it comes to websites where users can create content, like bbPress forums or BuddyPress online communities, the most active users are considered the ones that have created the most content.
Whatever the most useful metric to track user activity for your website is, it's obvious that not all of your users are will be equally active. Some users will show up once, and never again. While others might be visiting your site many times per day and actively follow any change you make to your website. The most active users on your site are usually, the people who show deep interest about your product and services. Knowing who your power users are can help you to manage your WordPress users more effectively. How to find active users with the Users Insights WordPress plugin
There are many different parameters that can be used to track user activity, but the two most important metrics that show your WordPress users activity are the user logins, sessions and their online activity. Our main goals for today are:
How to see which users are online
Understanding the last seen field
Showing the number of sessions
Average number of sessions
Page visit tracking
Combining multiple filters for better segmentation
How to see which users are currently online
Timing is everything when it comes to business. So, creating last time offers or interacting with your users as they are online is very compelling.
The sense of urgency added to contact done as your users are online is much higher. Also, it's nice to know how many users you have online over different periods of the day.
If you have Users Insights installed you can see that by the online activity icon: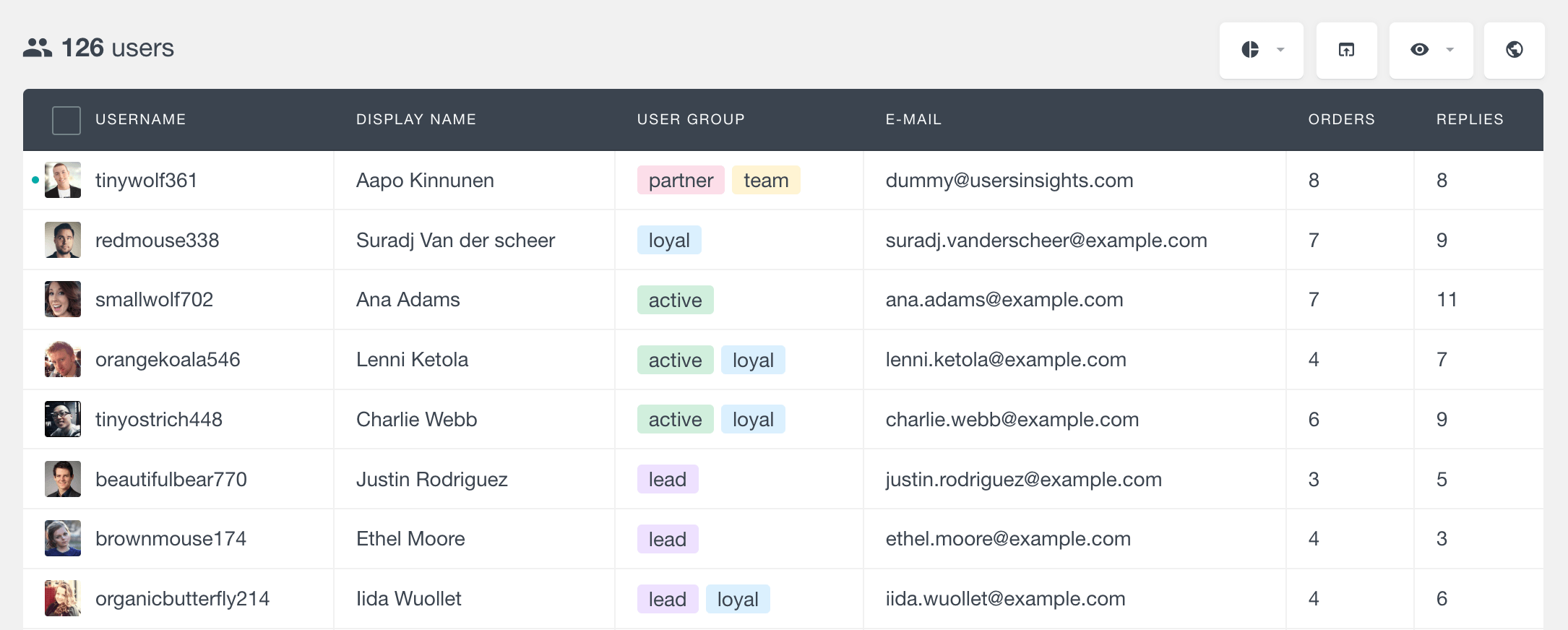 For a broader view you may plot how many users you have over time to compare and see how that's evolving.
Understanding the last seen field
Even though you may track your users down, you won't see every single time they log in. That's when you can look for their latest WordPress activity with the "last seen" field.
The last seen field, as the name suggests, shows the date when the user has last visited your site (while logged in). You can easily order the users list table by "last seen" to see which users have been active most recently.

This field allows you to not only see your user login history, but also to order them by that. You could see the users who haven't logged in for a long time by clicking the column title: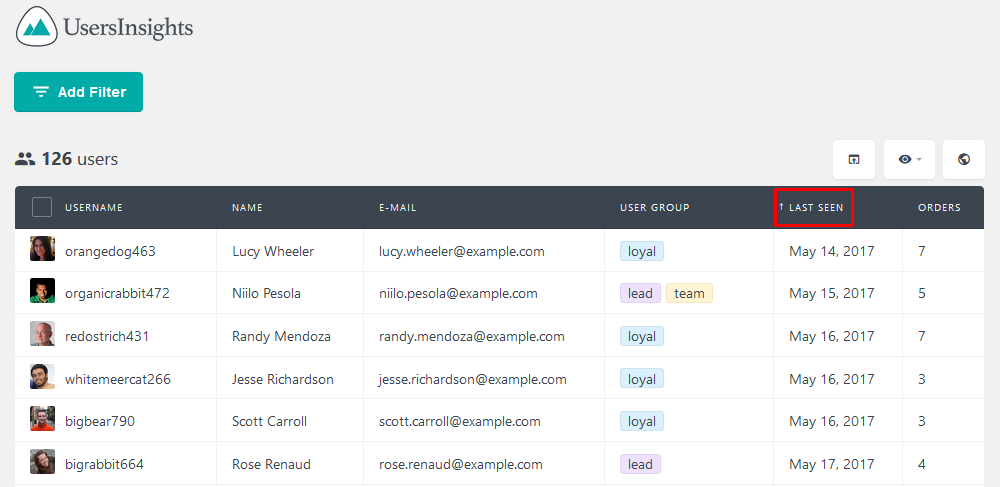 This information is very valuable as you can remind them about your site. In this way you may recover a potentially lost user. And using the reverse filter (most recent logins first) you can see your most active users. Therefore you could reward the most active customers and try to regain the least active ones.
Showing the number of sessions
Although the Last Seen information is useful, it is limited as you won't know how often these users visit your site. Using the number of sessions column will allow you to gather this information.
The number of sessions field shows you how many times a particular user has visited your site (while logged in).Every time a user visits your WordPress website, the plugin will update the user activity log by one, meaning that the WordPress activity log will show the total number of sessions a specific user has made. Ordering your users table by the number of sessions gives you a simple and quick way to monitor the user activity of your most active users right from the WordPress dashboard. You can do this by clicking on the sessions field in the Users Insights table.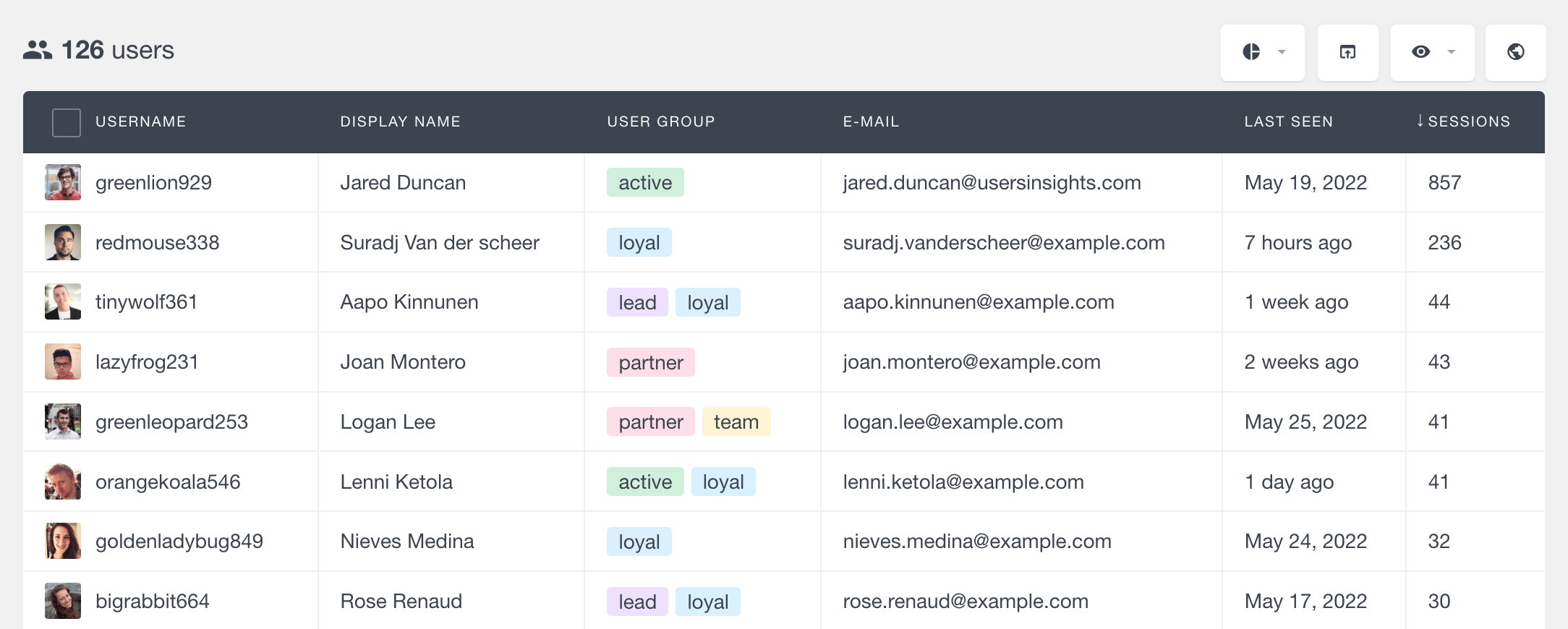 Now you'll know how often every single user visits your site. As well as with the last seen column you can order your users by highest or lowest number of sessions.
This information will tell you the most active users of your site. This, in combination with the last seen filter, can help you understand your WordPress user login history. For example, you can check how many sessions your most recently active users have.
By using the smart filters, you can easily further segment your users data and get more detailed results. For example, if you want to see the list of users that have more than 50 sessions on your WordPress site, all you need to do is add a session field filter and set the condition to be bigger than 50.

Average number of sessions
An average is a good way of understanding your data. But there is no easy way to get an average number of sessions for your users. So we'll need to create our own.
In our example we are going to check how many logins a user has per 30 days (month). For that we'll need a few ingredients. The first one is the date registered. In this way we'll know for how long this user has been around.
Then we'll also need the number of sessions, as that will be divided by the number of days registered. So this is our final view: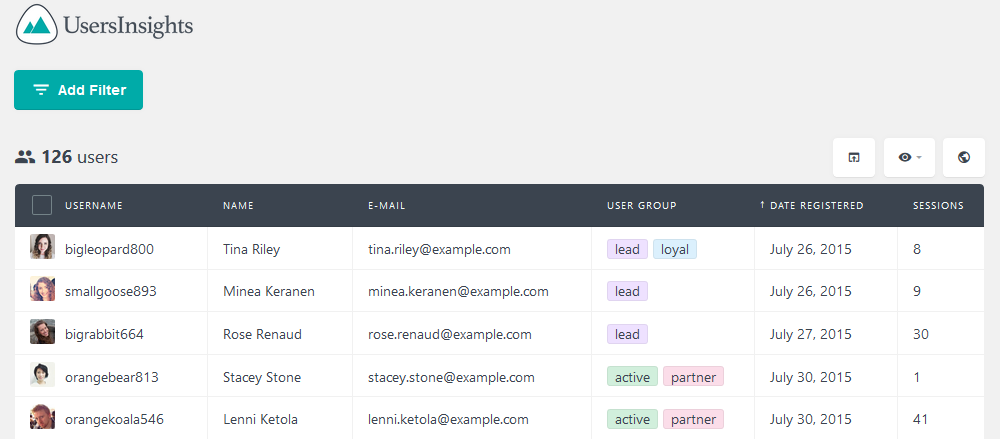 We can use a spreadsheet software to get the actual average, so you'll need to export these users with this data. Then just create a new column for this number.
Now we just need to divide the number of sessions multiplied by 30 by days registered. This is our final result:
Page visit tracking
Another way to monitor user activity is by tracking which pages they are visiting and how often. When enabled, this feature will record the visit in the custom event log every time a user visits one of the tracked pages (independent of which WordPress theme you use). This allows you to find all the users who have visited a selected page or post.
Also you can explore the total number of page visits that Users Insights has in the activity log record for each user. You can easily filter and sort the table to find the most or least active users in terms of page visits: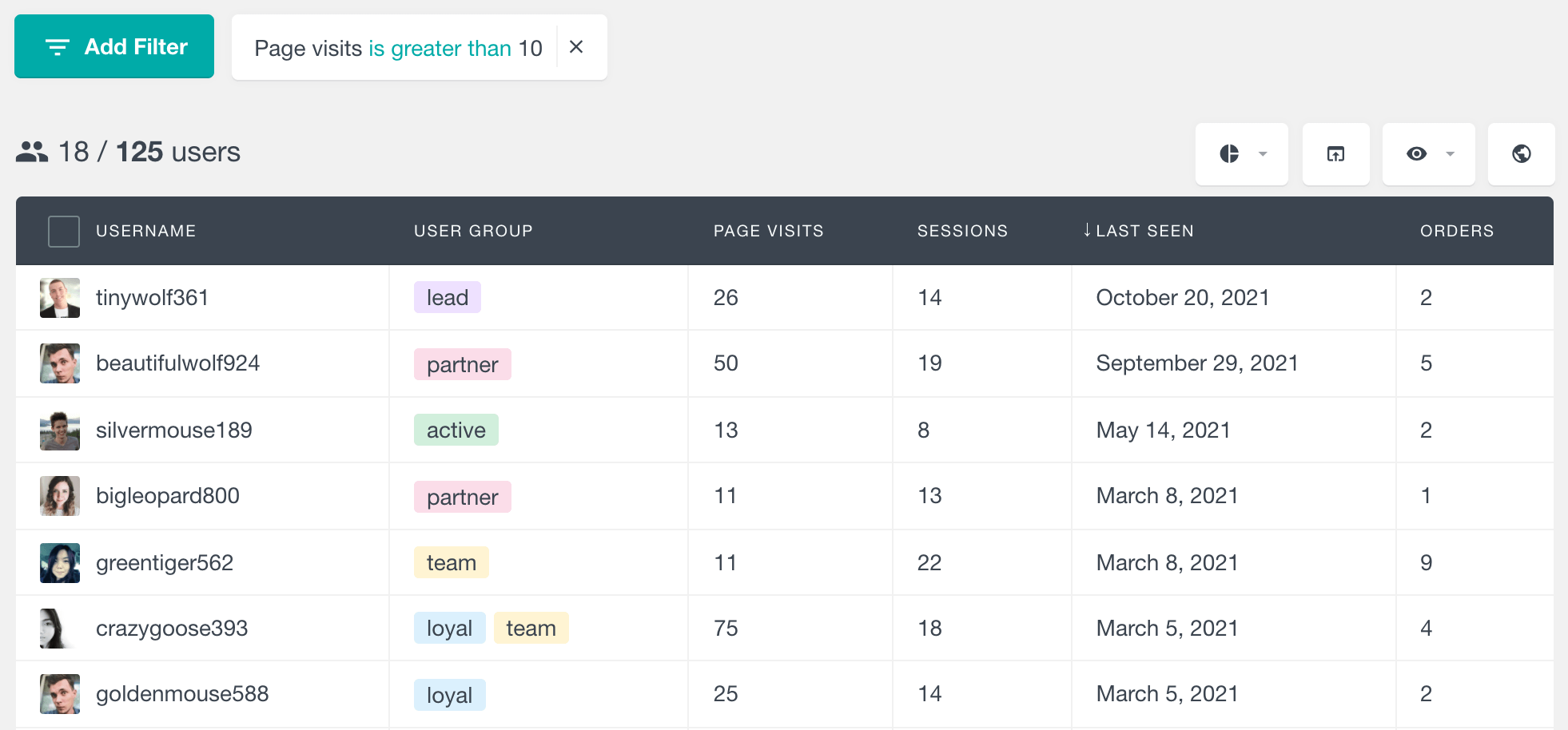 Combining multiple filters for better segmentation
You can combine two or more filters to create a more specific user list and to further segment your users data. For example, having the number of sessions for each user can be useful, but this doesn't really show you if that user has been active recently. The combination with the "last seen" filter gives you more precise results. Now you can make a filter that shows you all of the users that have more than 15 sessions and have been active in the last month.

There are various situations when knowing who the most active users on your website are, can be a very useful piece of information:
Maybe you need some customer testimonials for your website from the customers who use and love your product
You might want to run a survey and ask your users to provide some valuable feedback about your products or services
You are planning to run a social media campaign and need some love from your customers
You are launching a new product and need to find people who are willing to do beta testing for you
Or simply you want to reward your most loyal customers by giving some discount coupons or exclusive offers
Here is a short video showing how to find the most active users that have been active in the last 30 days:
If you are running an online store you are probably also interested in your users' shopping activity. The WooCommerce module of Users Insights allows you to track and analyze the shopping activity of your customers. You can search and analyze your customer purchase history, filter your customers by ordered products or filter them by lifetime value. Unlike other analytics services like Google analytics, Users Insights is a WordPress plugin and works locally inside your WordPress dashboard so it can pull the data from your WordPress website automatically.
When running a membership website or a community forum, you are going to be more interested in the activity of content creation and communication of your users. To track and analyze this kind of activity, we need to be able to search and filter our users by the content that they have created. If you are using BuddyPress, you can check our tutorial about how to track and analyze your BuddyPress activity.
Whatever the reason is, Users Insights plugin makes it is easy to find your most active users and because these are the users that show greater interest in your product, they are going to be more willing to participate in any activity that involves your website or products.