How to create WooCommerce abandoned cart report
In this article, we are going to explore how to track abandoned carts and how to create your own WooCommerce abandoned cart report. We are also going to explore some of the reasons people abandoned their carts as well as how to improve and recover abandoned carts in WooCommerce.
What is WooCommerce abandoned cart?
The term WooCommerce abandoned cart refers to the situation when a customer adds items to their shopping cart on an online store but does not complete the purchase. Abandoned carts are a common problem for all online stores, as they are commonly considered lost sales. This can happen for several reasons, such as the customer getting distracted or changing their mind about the purchase.
However, there are ways to combat this issue, such as improving the usability of your website or using dedicated abandoned cart plugins. These plugins can help to recover lost sales and prevent customers from abandoning their carts. Why do people abandon their carts?
There are many reasons why people abandon their carts. Maybe they were just browsing and not really ready to purchase anything. Or, they may have found a better deal elsewhere. Maybe they found that the extra costs like shipping costs were too high or the checkout process was too complicated and the site wanted them to create an account.
Whatever the reason, cart abandonment is a big problem for eCommerce businesses. By understanding the reasons why customers abandon their WooCommerce carts, businesses can work on improving the customer experience and hopefully reduce the number of abandoned shopping carts.
According to Baymard Institute, the average cart abandonment rate is 69.99%. This suggests that a majority of individuals abandon their purchase after beginning the checkout process. For businesses, this can translate into a lot of lost revenue, and if they can improve this number by just a few percent that will make a significant impact on their top line.
What can shop owners do to reduce cart abandonment in the first place?
The first step is of course to have a WooCommerce abandonment cart report and analytics that will track the cart abandonment rate of your WooCommerce shop. Having a WooCommerce abandonment cart report will allow you to measure and benchmark your abandonment rate but more importantly to track your improvement over time.
While it is probably impossible to completely eliminate cart abandonment, following some good user usability practices can help reduce it and improve your bottom line.
There are a few things businesses can do to try to reduce cart abandonment and encourage people to complete their purchases. First, make sure your site is easy to use and navigate and has a clear call to action. Second, offer multiple payment options and make sure the WooCommerce checkout process is as simple as possible, offer option for guest checkout, and provide multiple payment options. Finally, offer incentives like free shipping or discounts to encourage people to complete their purchases.
Benefits of WooCommerce abandoned cart report plugins
There are many benefits of using WooCommerce abandoned cart report plugins for your eCommerce store. These plugins can help you view cart abandonment statistics and graphs from your WooCommerce dashboard and keep track of your shopping cart activity, abandon rate, and other important analytics. This can be extremely helpful in improving your overall store performance. Additionally, these plugins can also help you save time and money by automating the process of generating reports for WooCommerce.
How to Check WooCommerce Abandoned Carts?
There are a few different ways to check for abandoned carts, in this article we are going to focus on the Users Insights "Has product in cart" filter.
The first step is to see if there are any shopping carts that have been abandoned in your WooCommerce store. To do this, go to the Users Insights page and add the "Cart has items" filter. This will show you all the customers who have currently (in real-time) an item in their shopping cart.

You can verify this by opening a WooCommerce customer profile section of Users Insights and navigating to the "Items in cart" section. Here  you can see what items are in your WooCommerce customers shopping cart.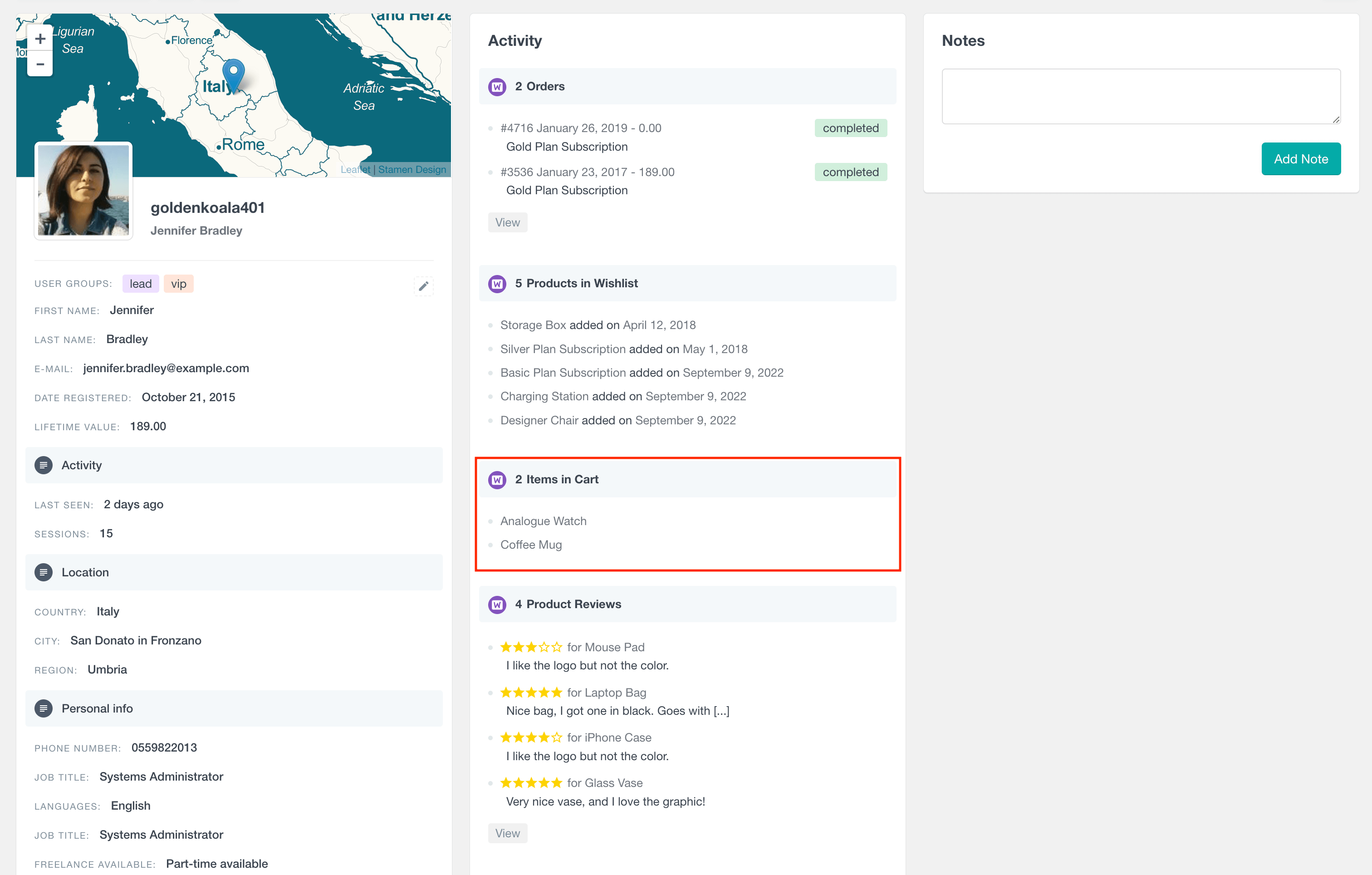 Just make sure that this section is not hidden in your settings. You can control which sections will be shown via the "Profile settings" menu in the top right section of the user profile.
When checking for cart abandonment is important to exclude from the report the people that are currently shopping on your website. As they can skew the numbers of the WooCommerce abandoned cart report. With Users Insights you can easily do this by applying the last seen filter. This field tracks the latest WordPress activity of a WooCommerce customer.

How to use the WooCommerce abandoned cart report to recover your carts?
It is better practice, to try to reduce the number of abandoned carts in your WooCommerce store in the first place.
There are a few different ways that you can go about recovering WooCommerce abandoned carts and all of them revolve around ways to track your abandoned cart and sending abandoned cart emails. One way is to use an abandoned cart WooCommerce plugin, which can help you recover abandoned carts automatically. Abandoned cart recovery plugins can automatically send cart recovery emails to your customers in an attempt to recover their lost purchases.
Another way is to send out cart recovery emails manually to the email address of the customer using a custom email template. Either way, it's important to have a plan in place so that you can help your customers recover their carts and avoid cart abandonment.
No matter the method you choose you will need to make sure that the emails you are going to set your customers are relevant and about the product that they had the intention to buy in the first place. One way to make sure of this is to make sure that they have not already purchased the product in question. You can do this with Users Insights by combining the " Has product in cart" filter and the "Ordered product exclude" filter.

This will give you a list of all the customers who have abandoned a specific product from their WooCommerce cart but have not already purchased that product in the past.
As mentioned above another way to improve your messaging is to offer incentives for customers to complete the order. This can be in the form of discounts, free gifts and discounts on products bundles.  To get a better idea of what products to offer together you can use the frequently bought together report section of the WooCommerce products reports.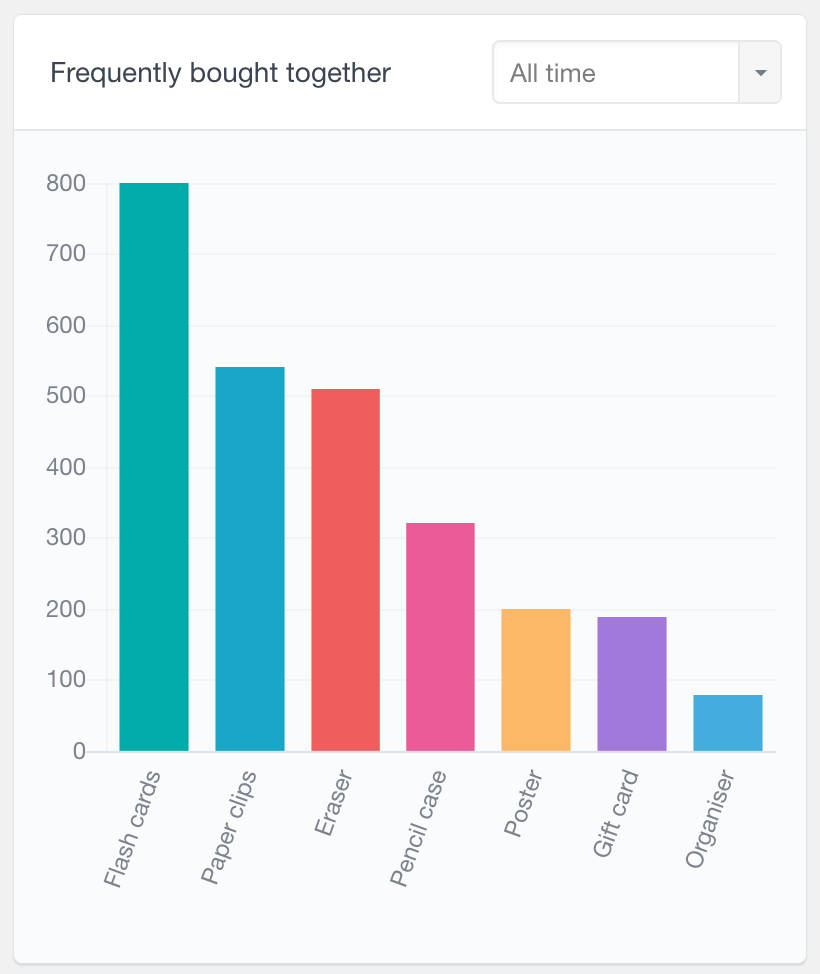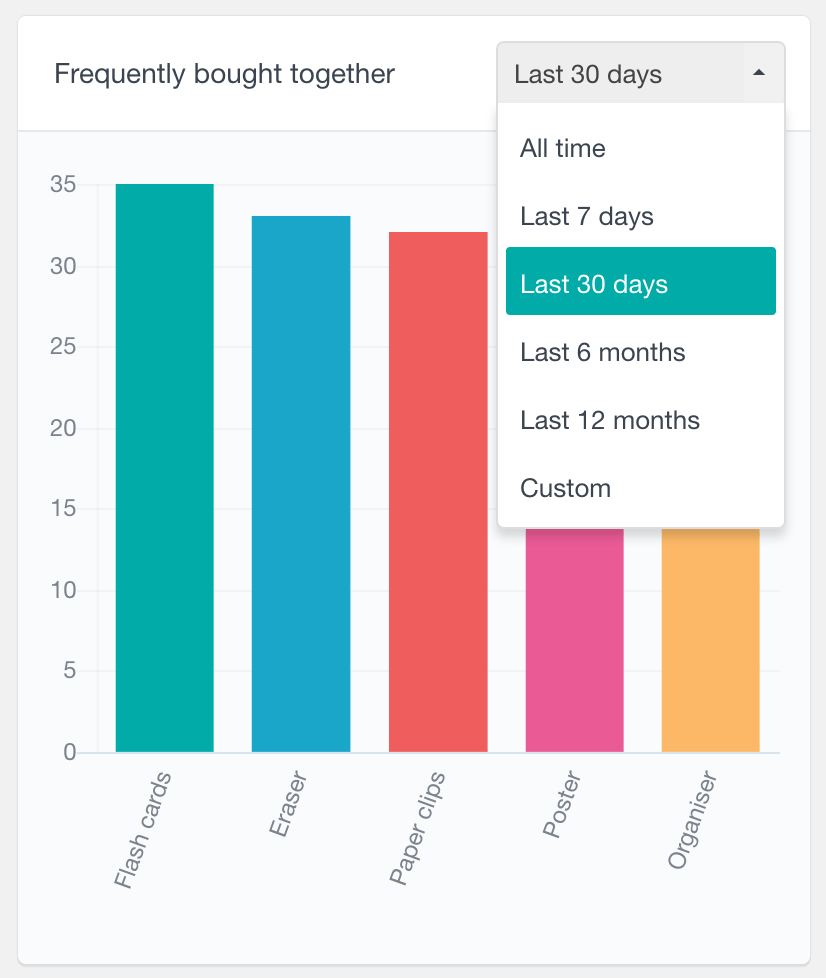 Conclusion
There are many reasons why customers abandon their shopping carts. But if you want to improve your cart abandonment rate, you'll need to find an analytics plugin and reporting platform that can help you improve your WooCommerce tracking and make sense of all the information. Having a dedicated WooCommerce cart reports to track your customer cart details can be very useful. It gives you insights for improving the abandoned cart email and potentially recover abandoned cart with cart recovery plugin or without it.