How to find WooCommerce frequently bought together products
In this article we are going to dive deep into the WooCommerce frequently bought together features and data. We are going to see how you can use your WooCommerce store data to discover which products are often purchased together by your customers and how to use this data to improve your WooCommerce store performance.
What is "frequently bought together"?
First, let's define what do people mean when they use the term frequently bought together. In general usage, it means that when a customer purchases more than one product from a WooCommerce store what other product is the most commonly purchased in the same order. In the eCommerce industry, the phrase "frequently bought together" is often seen on e-commerce websites and refers to a marketing technique that suggests products that customers are likely to purchase together. For example, if you were looking at a single product page for a new camera, you might see a "frequently bought together" section that suggests adding a memory card and a camera case to your purchase. These sections are usually located near the add to cart button on the product page or on the cart page. The purpose of this technique is to increase the chances that customers will add more items to their shopping cart, thus increasing the total amount spent. This technique in WooCommerce is usually provided by WooCommerce plugins (like YITH WooCommerce Frequently Bought Together or frequently bought together for WooCommerce) or WordPress plugins or even WordPress themes. This is often combined with an offer of a percentage discount when customers buy certain products together in addition to the main product as a way to cross-sells and upsell customers on the product page.
Benefits of using a WooCommerce Frequently Bought Together
Product recommendations are a great way to increase conversion rates and improve the odds of your customers ending up buying more products. There a many product recommendation techniques that can be improved by knowing which products customers frequently buy together like:
Product recommendations
Related products
Cross-selling and upselling
Product bundles
By showing related products on the WooCommerce product page, you can increase the chances that customers will also buy another related product. Additionally, cross-selling and upselling are two other great benefits of showing product recommendations.
Product recommendations are a great way to increase conversion rates and improve the odds of your customers ending up buying more products.
By showing frequently bought together items on the product page, you can encourage customers to add more items to their cart. Finally, by showing recommended products on the product page, you can introduce customers to new products that they may be interested in.
How to select the perfect recommended products for a targeted WooCommerce product
Related product recommendation is a strategy used to encourage customers to purchase related products that complement well with the product that they are going to purchase anyway. When executed well, cross-selling can be a great way to boost sales and revenue.
To successfully cross-sell, you need to start by recommending products that are related to the product the customer is already interested in. You can do this by adding accessories or related products to the recommended list or to a WooCommerce product bundle, or by cross-selling custom products. Once you have added these items, you can then encourage the customer to purchase them by explaining how they will complement the product they are interested in and or by offering a discount if the products are purchased together.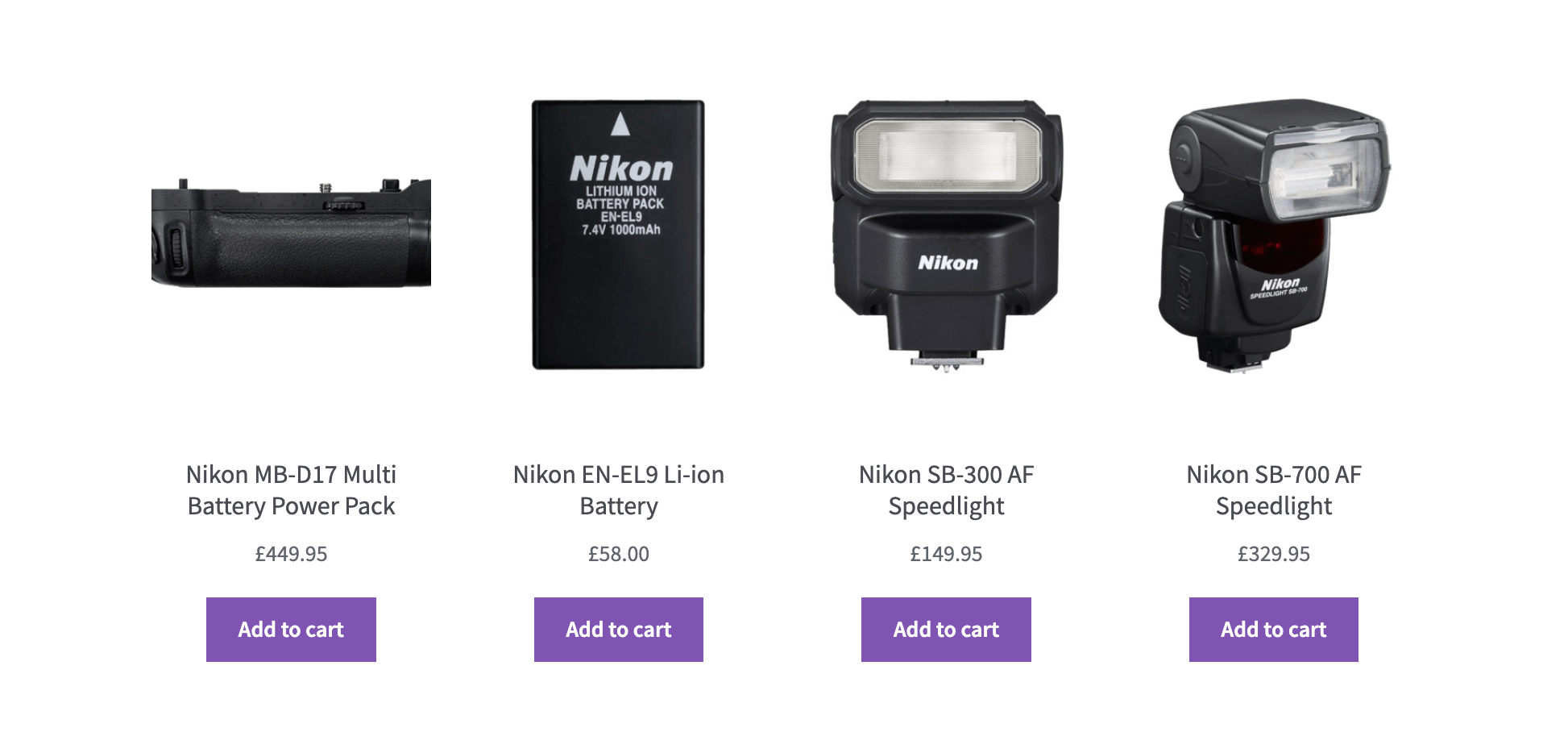 Upselling can be an effective way to boost sales, but it is important to make sure that you are only recommending products that are truly related to the customer's needs. If you try to WooCommerce upsell a customer on a product that is not related to their interests, you run the risk of losing the sale altogether. That brings the question: How do you know which products to recommend for the most optimal conversion rate improvement? For some products, the answer is quite intuitive, if the product is a camera it is very likely that the customer will also like to buy a memory card with that as well. But for other situations, things might not be as obvious. For this, we are going to try to avoid the guessing game and make data-driven decisions.
How to know which related products customers frequently buy together from your WooCommerce store
The best product to recommend is the one that the customers already purchase together. For this, we will need to dig into the WooCommerce data and find out which products are already frequently bought together in our WooCommerce store.
The Frequently Bought Together report of Users Insights can be used to find other products that are commonly bought along with the selected WooCommerce product. You can find the WooCommerce frequently bought together report under the WooCommerce product sales report in the Users Insights reports.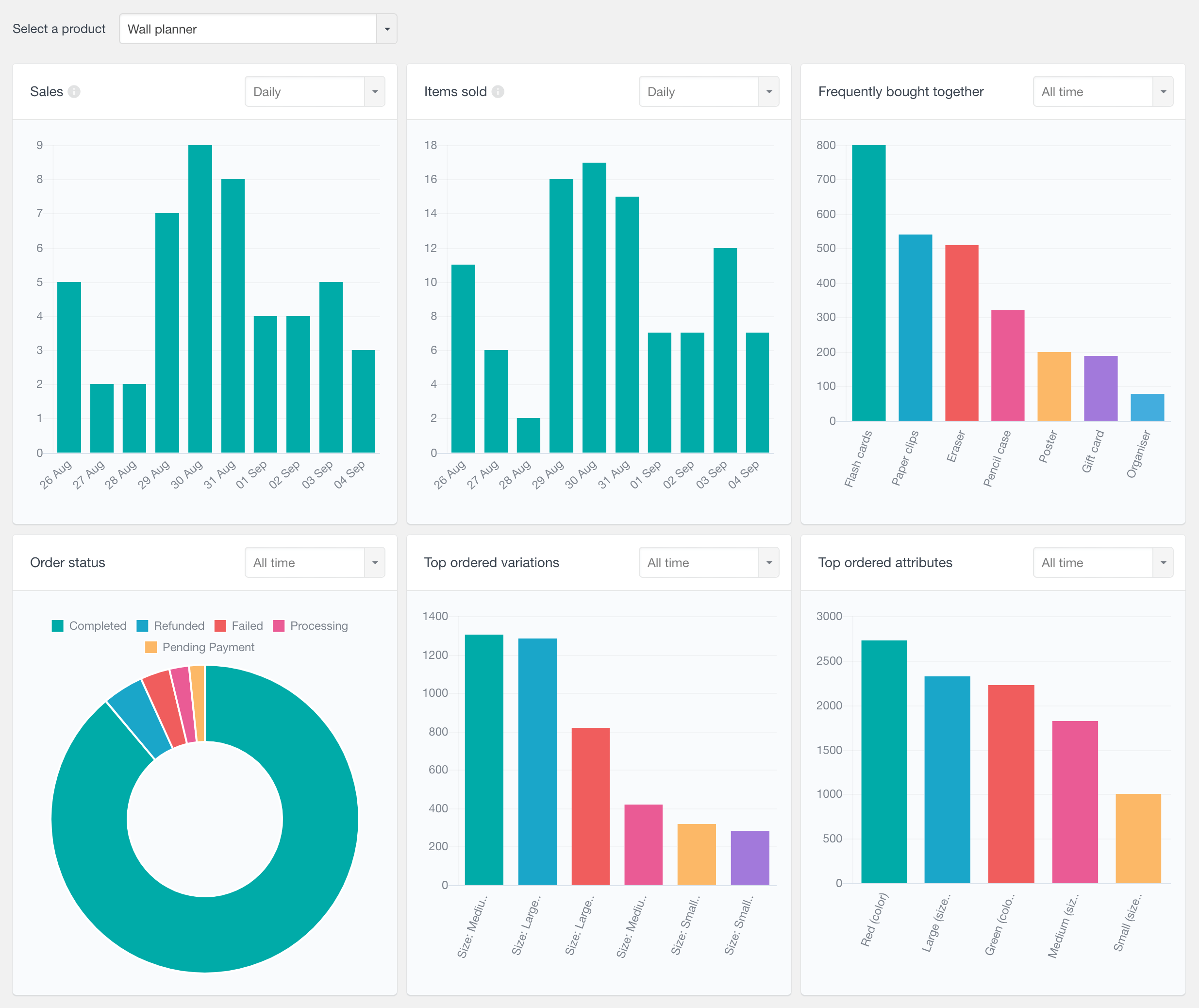 Once you open the product sales report you will need to select the product from the drop-down menu that you would like to build a WooCommerce custom product report.

Once the report is generated, the frequently bought together lets you see all the additional products that are frequently purchased on your eCommerce store.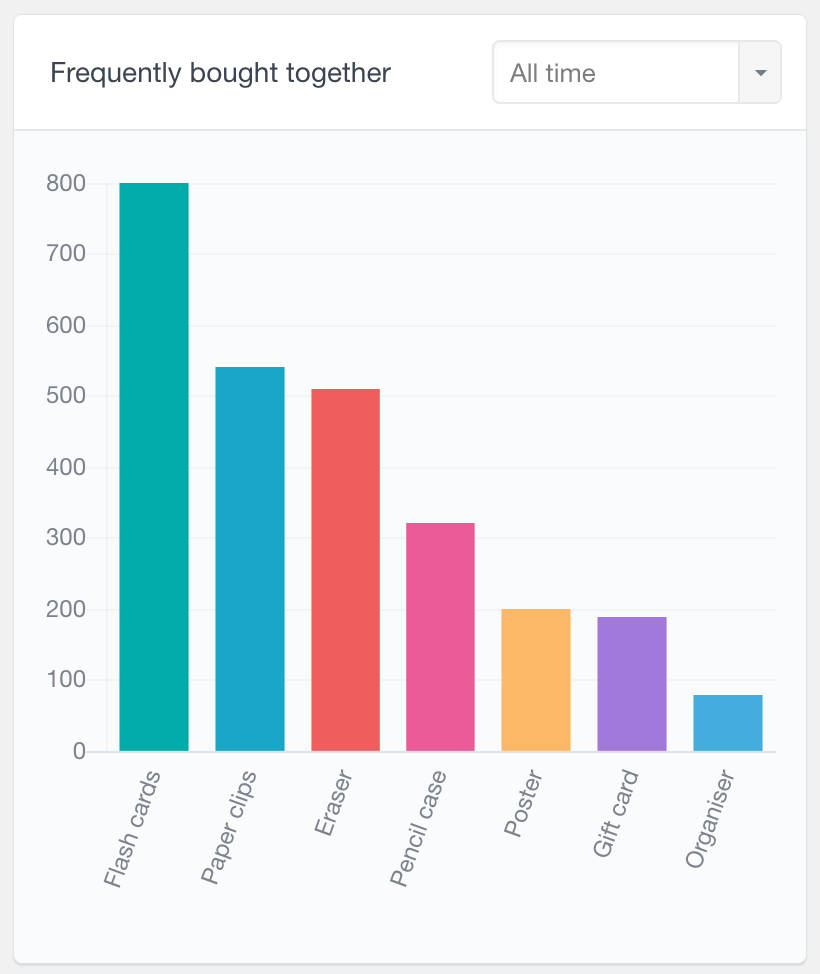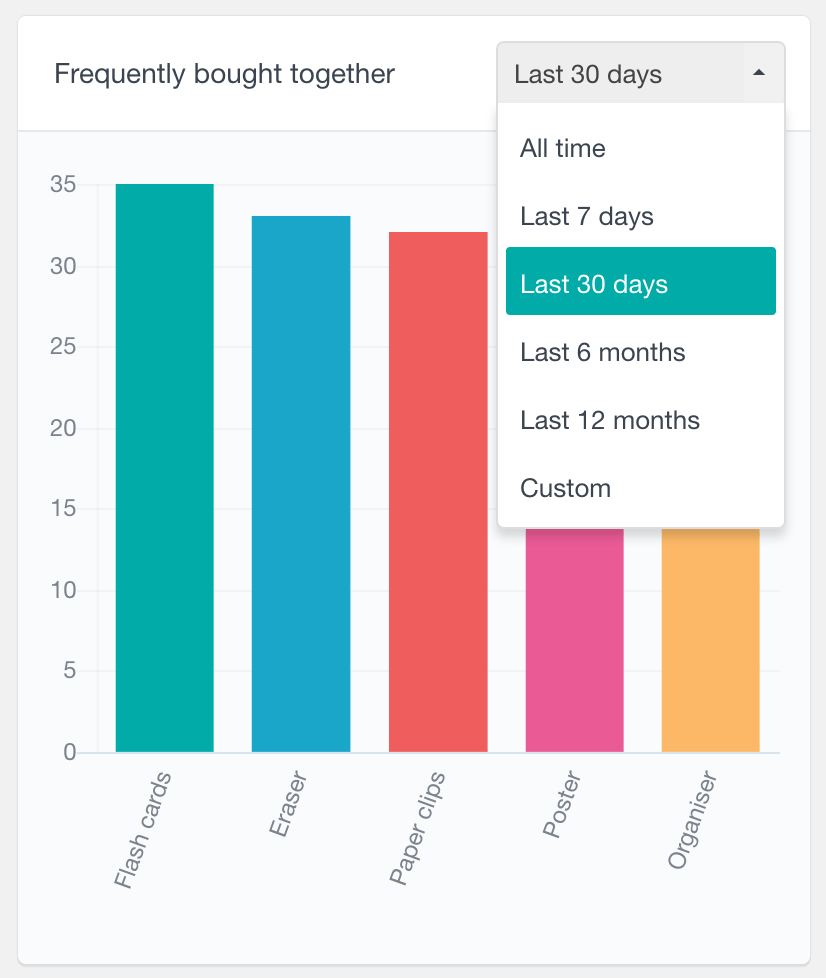 This report by default shows the all-time data, however, with the custom report settings, it can be filtered to show the results for a custom date range. This report counts the number of WooCommerce orders where each product is purchased along with the selected product.
Conclusion
If you are looking for ways to increase sales and average order value on your WooCommerce site, one great way to do this is by using the WooCommerce Frequently Bought Together plugin and data. This technique allows you to create "customers also bought these items", "buy together" or "product bundles" offers that are displayed on the product page and encourage customers to buy multiple products at once.