How to create a custom export of your WooCommerce customer data
Have you ever wanted to be able to create a more customized export of your WooCommerce customer data? Maybe there is only a certain type of customer information that you want to export or you want to export only a section of your customer list. In this article, I'm going to show you how to create custom WooCommerce exports  of your customer data (in a CSV format) with the help of the Users Insights custom export feature.
The custom export functionality of Users Insights gives you the option to export an already segmented list of your customers. You also have the option to choose the fields that are going to be included in the exported file.
Please note that in order to use the Users Insights export feature, your customers have to be registered WordPress users.
Why create a custom customer export
In most cases, the reason why you need to create an export of your customer data is so that you can import this data into another system. Every software has its own requirements of what data to be included into the import file. Therefore, exporting all the data for all the customers is usually not very practical. For example, if the reason you are exporting your customer data is so that you can import it into an email campaign software, like MailChimp or Campaign Monitor, the data that you need is very specific. This is usually your customer name and email information. Other systems like some CRM softwares might have completely different requirements. You might also need to export the customer data so you can generate WooCommerce reports of how your shop is performing.
This is why you need a way to export only the customer information that you need for the specific purpose. Getting Started
The custom export feature of Users Insights is bundled with the plugin. When you open the Users Insights user list page, you will notice an export button on the right side of the table. Clicking on the export button will export the user list with the same settings that are currently applied to the user table, including visible fields, sorting order and filters.
Exploring all the WooCommerce customer data
If you click on the export button from the menu, a prompt dialog will show up and ask you if you are sure that you want to export all the customer data. If this is what you want, you can go ahead and confirm your export. This will start the generation and download of the export file in a CSV format on your computer: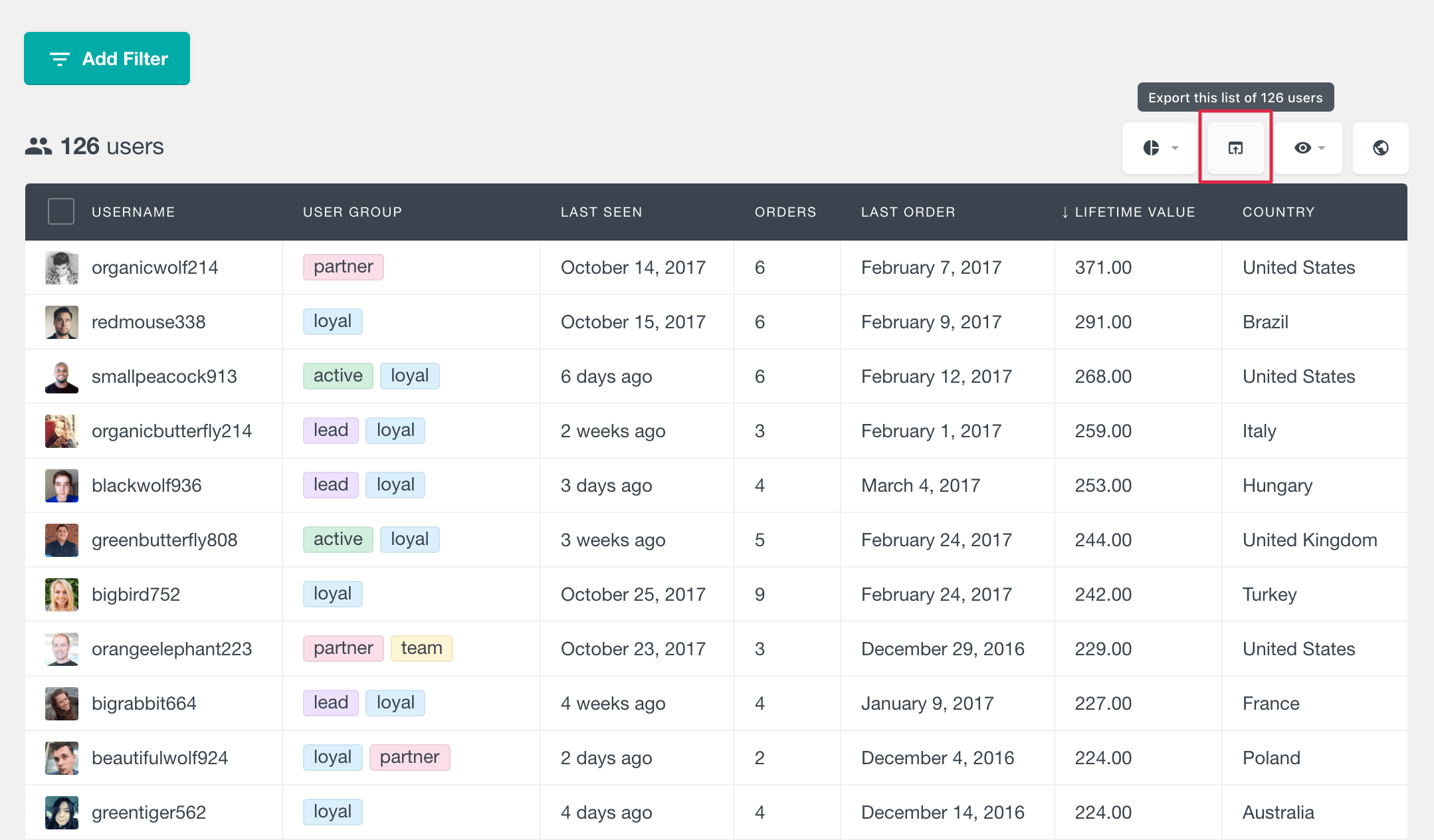 Once the file is generated and downloaded to your computer, you can open it. The file will look like this: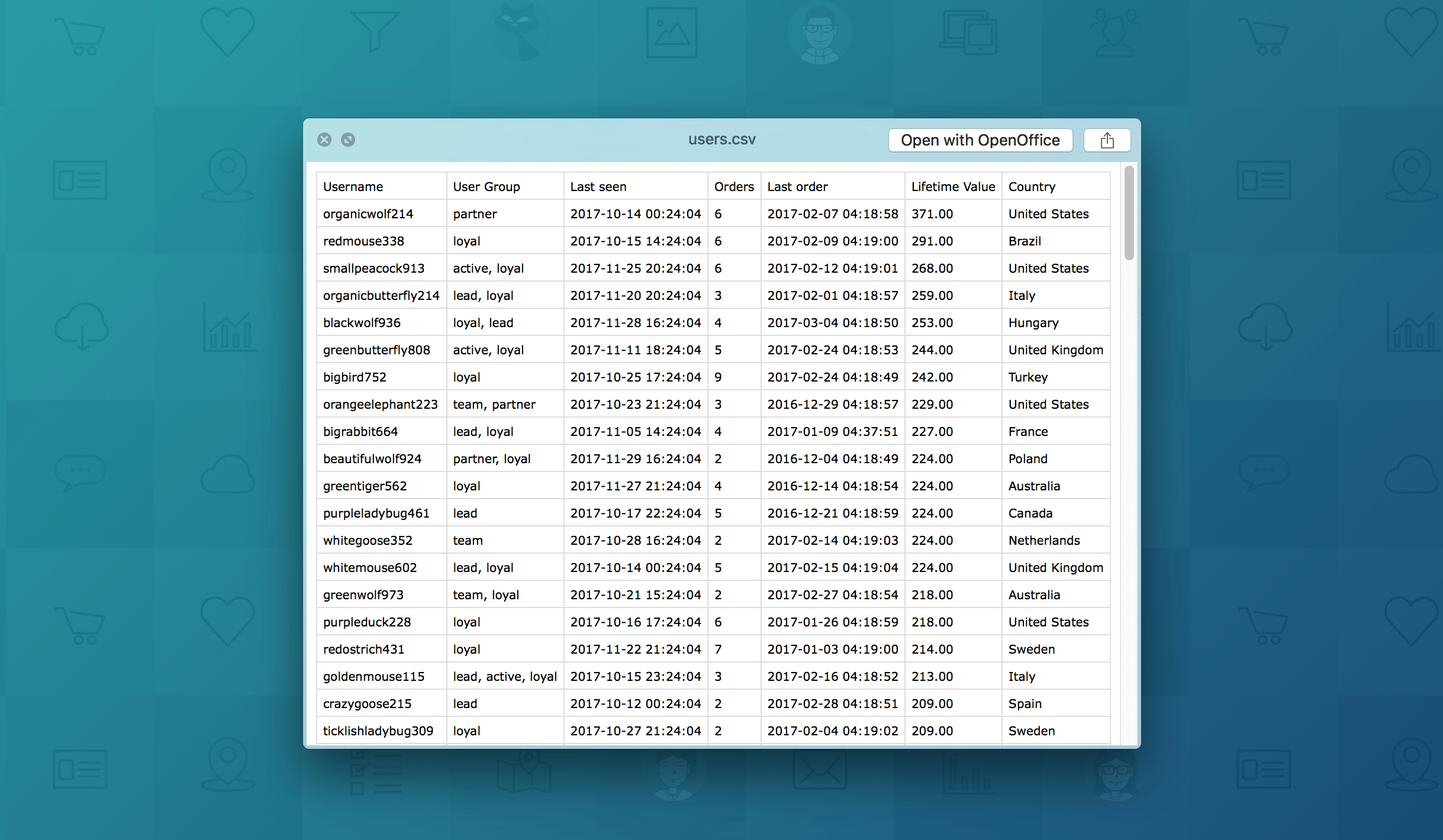 Customizing the export fields
As you can see from the downloaded file, the fields in the exported file are exactly the same as the fields in the Users Insights table. Users Insights will export only the fields that are shown in your customer list. So, if there are some fields that you want to be included in the export, you have to make them visible on the Users Insights table before you do the export. You can show and hide fields on the table from the "Eye" menu.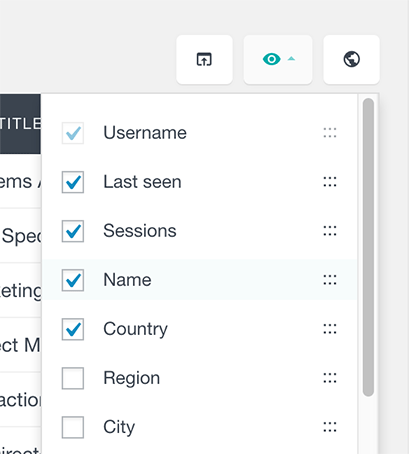 From this section you can also change the order in which the columns will be exported, just by dragging and dropping them to the different positions.
Customizing the sorting order of the export
You might have also noticed that the data in the exported file is in the same sorting order as in our Users Insights table. If you want the exported file to be sorted by a specific column, just make sure that your Users Insights list is sorted in the same way before you do the export. You can change the sorting order of the customer list by clicking on the title of the column that you would like to sort by.
Creating custom exports
If you want to export only specific customers from your customer list, you can do this by combining the Users Insights smart filters with the export functionality. All you need to do is apply any filter to the user table and then click on the export button while the filter is applied. Users Insights will export only the customers who are listed on the Users Insights table. Let's say, for example, that you want to export all the customers who haven't been online in the last 60 days and are from the United States. You can easily do this by simply adding one filter "Last seen is less than 60 days" and a second filter "County is the United States".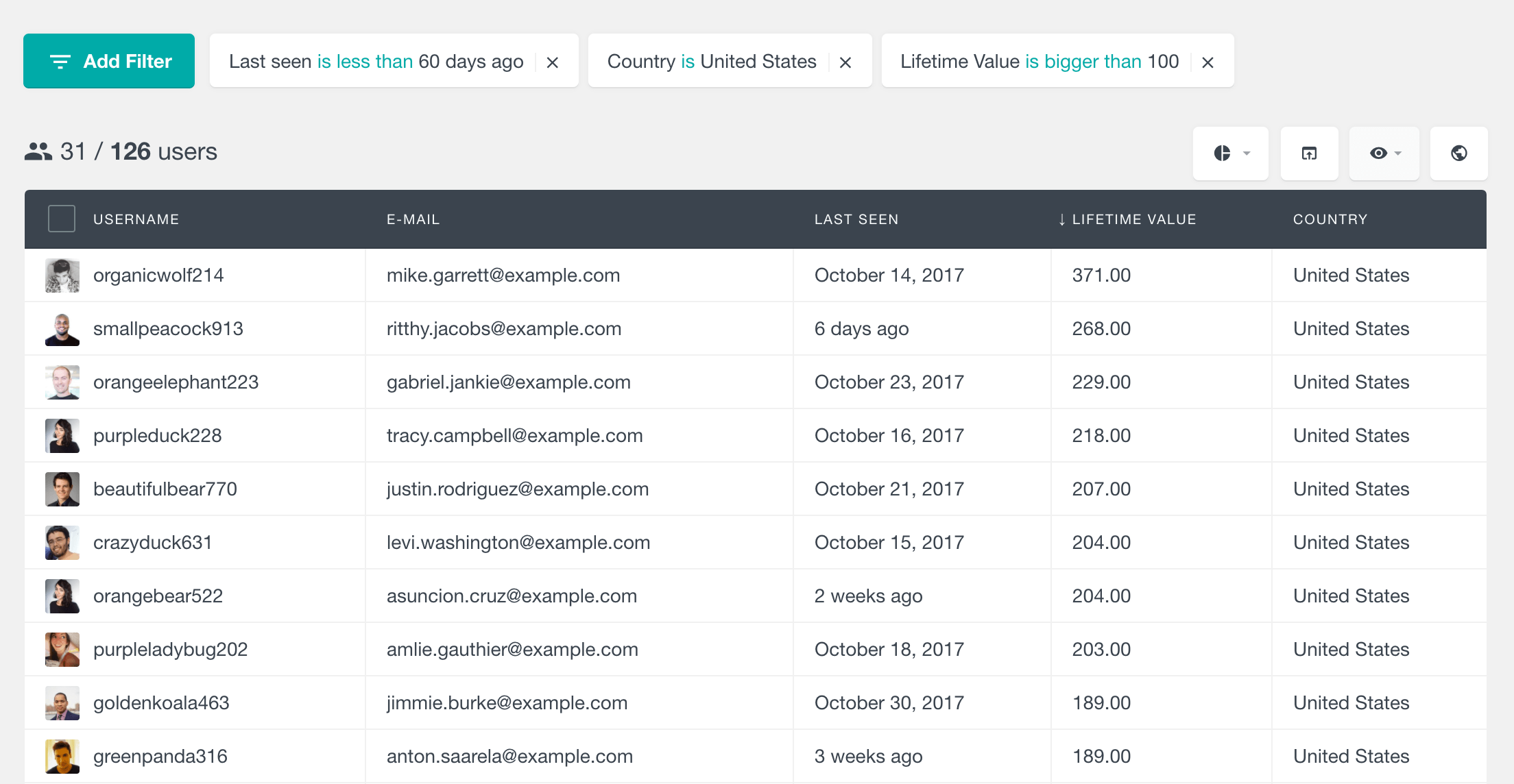 Now if we just press the export button, we will get a CSV export with only these customers: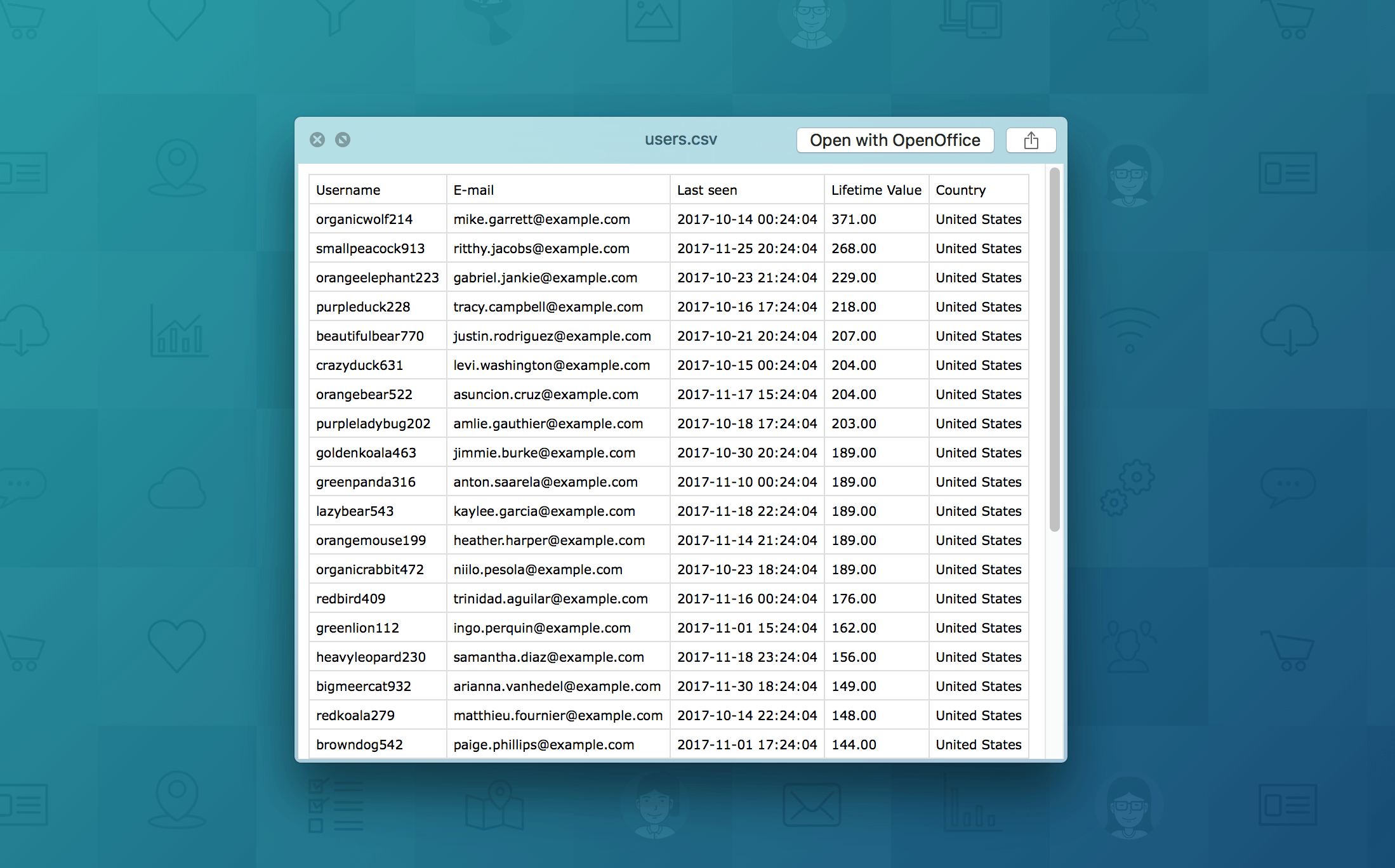 Creating a custom export of your WooCommerce customer email addresses
Sometimes you might need to simply export the email list of your WooCommerce customers. This could be because you want to import users into a mailing software like MailChimp or Campaign Monitor or you may just need a list with the most basic information about your customers.
In our example, we are going to export only the repeat buyers, but we'll also hide all columns except the user's name and email. Let's filter our results and have a WooCommerce export of our customer emails: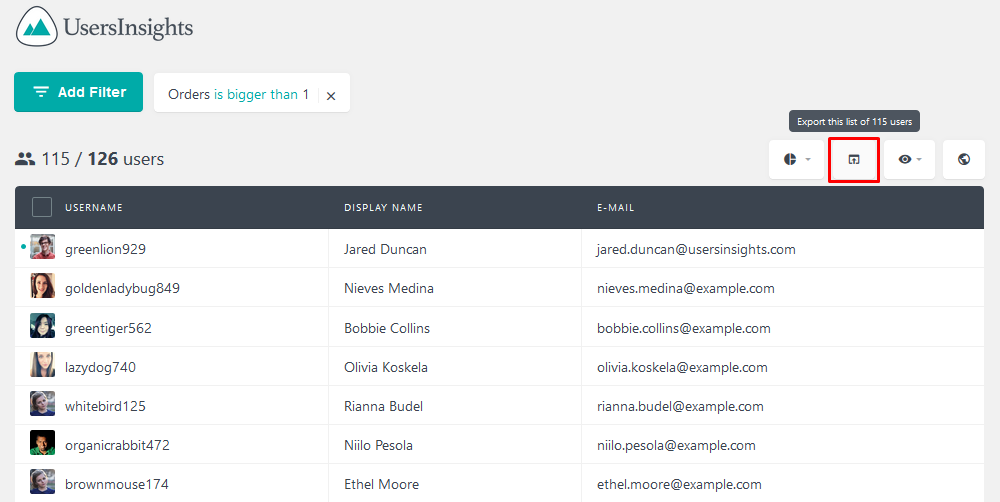 How to export WooCommerce custom fields in a CSV format
In addition to simple exports, you may want to add other custom fields to your CSV export. These custom fields may be stored by other plugins or custom fields that you've created yourself. For example, you may even use WooCommerce custom fields in your CSV export. Fields such as the billing address or shipping address.
In order to add these custom fields to your CSV export, you need to map them into Users Insights. To make it easier you may want to use the Extended WooCommerce Customer Management for Users Insights plugin. This plugin allows you easily map custom fields by choosing one of the keys you already have in your database, instead of adding them manually. So you just need to go to Users Insights > Custom Fields and add the fields you want, for instance, the shipping address.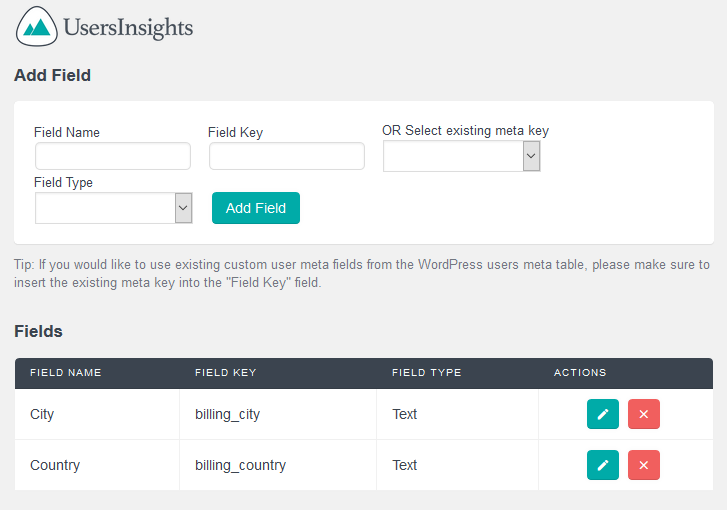 Now we have this field in our columns, we can easily add this extra data in your export. In order to do that, just make sure you have this column visible. In our case, we'll use the shipping data from WooCommerce (country and city).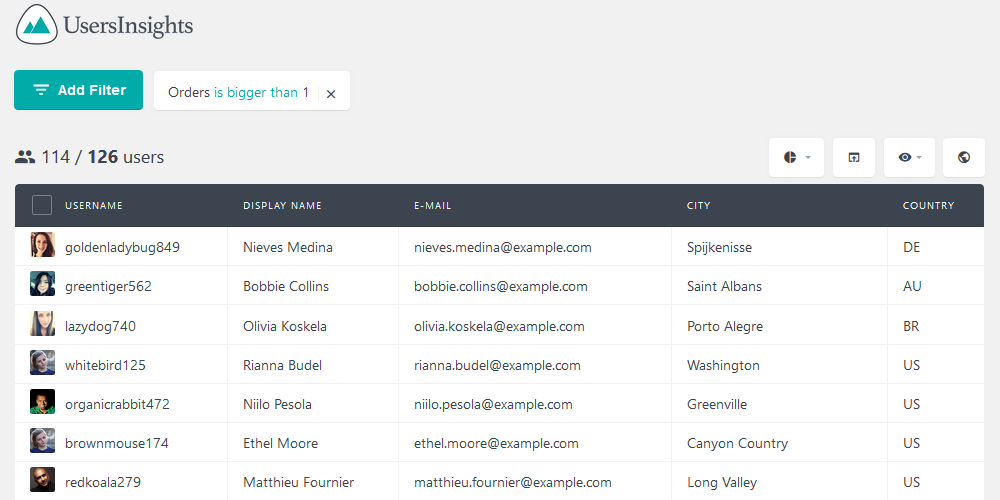 You could use the same process to create a different WooCommerce CSV export for other custom fields.
With the Users Insights filters, you have almost unlimited options to segment your customer list. For example, you can easily export only the customers who have purchased a certain product or you can export the list of customers with the biggest number of orders. This can be very useful to create more targeted email campaigns based on your customers' order history.
Here is a short video showing how you can use the custom exports feature of Users Insights to create your own WooCommerce customer exports that contains only the information that you need:
As you can see, the custom export functionality of the Users Insights plugin in a combination with the rest of the plugin features and modules, can be a powerful tool for creating custom exports of your customer data. We hope that this article was useful and that now you can create your own custom WooCommerce customer exports.