How to find your best WooCommerce customers by analyzing their data
Today we are going to look into conducting WooCommerce customer analysis in order to find our "best customers". We'll look into different methods to define who your best customers are and how to engage them, or find other new customers similar to them.
The purpose of making customer analysis of our WooCommerce store is to identify the customers that are the most ideal for our store. Businesses can establish different groups of customers with different characteristics and needs that they consider ideal. By understanding what makes an ideal customer, a company can build and grow their businesses based on providing solutions to those needs.
In an ideal world we would have an entire customer base made of our ideal customers. But in order to get near this kind of result we need to first identify what makes a customer ideal. Therefore, our road to analyzing the best WooCommerce customers starts by defining how a customer can be valuable to you and what characteristics should this customer have.
Thus, in this article we'll describe different metrics and tools that you can use to get this information from your WooCommerce store. We'll also show you how you can use this information to define customer behavior so that you can optimize your business and/or your marketing strategy. For each metric we'll learn how to get this information using WordPress and Users Insights.
Our main topics for today are:
The "Best" WooCommerce Customer Analysis / Definitions
Active Users – Number of Sessions
Creative Users – Ideas and Suggestions
Transparent Users – Product and Service Reviews
Brand Ambassadors – Referrals and Shares
Returning Customers – Repeat Purchase
Loyal Customers – Lifetime Value
Profitable Customers – Average Ticket
So let's get right into it! WooCommerce Customer Analysis Definition: What make a customer "Best"
Customer analysis can be defined as the process of defining and identifying the characteristics of the customers that the business can serve best. In other words, the process that lets us know what characterises the customers that are the most valuable to our business.
There are many ways that your customers may be valuable for you. Way beyond the basic purchase experience, the true value lies in creating a deep relationship with them. Today we'll look into them from 3 main perspectives: Audience, Loyalty and Profit.
When it comes to Audience, the best customers are the ones that bring you traffic and interaction. They may be regular visitors themselves or they could also bring other customers with them (by referral and word of mouth). But sometimes they interact with other customers or your team in a way that they are helping you shape your brand and products.
Regarding Loyalty, the best customers are the ones that regularly come back to buy or interact more. Thus, this perspective will measure customers for whom you are able to convert audience into revenue.  This metric will also show you how your customers value your brand over other brands.
And the last perspective is the Profit. The best customers, when it comes to profit, are the ones who bring you the most revenue. The most important aspect here is how much you will get from a certain customer, if they decide to buy from you.
Please keep in mind that these are different perspectives, and the best one for you depends on your goals. Each perspective creates a certain group of metrics, and each metric will help you analyze a different set of information in your customer analysis report.
Of course, there is no strict line that divides audience, loyalty or profit. You may have customers crossing these lines. You may even have metrics that measure more than one of these dimensions. Some overlapping is expected when it comes to building the perfect customer analysis model for your case in particular.
Now let's take a look at some examples of different metrics that you can implement to help you identify and understand your best customers.
Active Customers – Number of Sessions
It's important for you to know the most active customers, not only if you have an online store, but in any site in general. In order to get this number we'll look at the number of sessions that each of your customers have.
With Users Insights you can get this user list by filtering your customers by the number of sessions. Just make sure you have the sessions column active by clicking the little eye icon. Then you can click on the session title to sort your customers list by that criteria.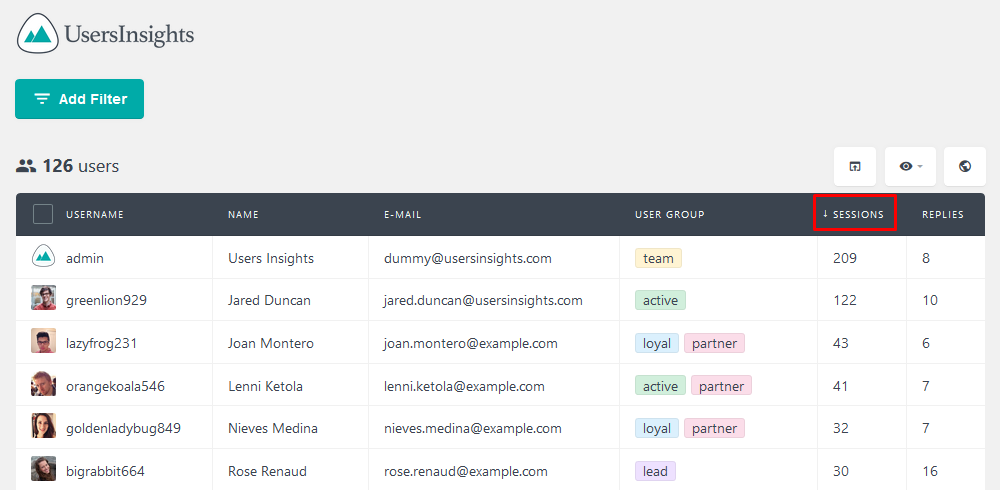 If you want, you can also export this set of customers by clicking the export icon. You can use the exact same technic to find your least active or lost customers so that you can know when to implement a win back strategy.
Creative Customers – Ideas and Suggestions
We always try to create the best products or services for our customers. But quite often they come up with ideas and suggestions that could only appear if you are a customer yourself. So it's always good to keep track of these suggestions. And also, it's a good idea to know your best customers when it comes to sending good ideas and feedback.
Usually these ideas will come though a form. In our example we've used Gravity Forms. Then you can use Users Insights to find all customers who have filled in this form. You can even go as far as creating a custom field to store the number of suggestions a customer has sent.
If you don't know how to create or edit custom fields to your users you can check out our Custom Fields Guide.
Mixing it all with Users Insights will get you your most creative customers, as well as how many contributions they have sent.

Transparent Customers – Product and Service Reviews
Reviews are very important for online stores. They help potential customers gain confidence that your product is what they are looking for. Also, they help building trust around your brand when you respond to the reviews (especially if they are bad).
Honest and transparent customers are the best when you are looking from this point of view. It's great to have them around, and it's great to provide them incentives for being honest. After all, even a one star review can bring a loyal customer if you treat them accordingly.
The WooCommerce module of Users Insights includes a Reviews field that allows you to search and filter your customers by the number of reviews they have made.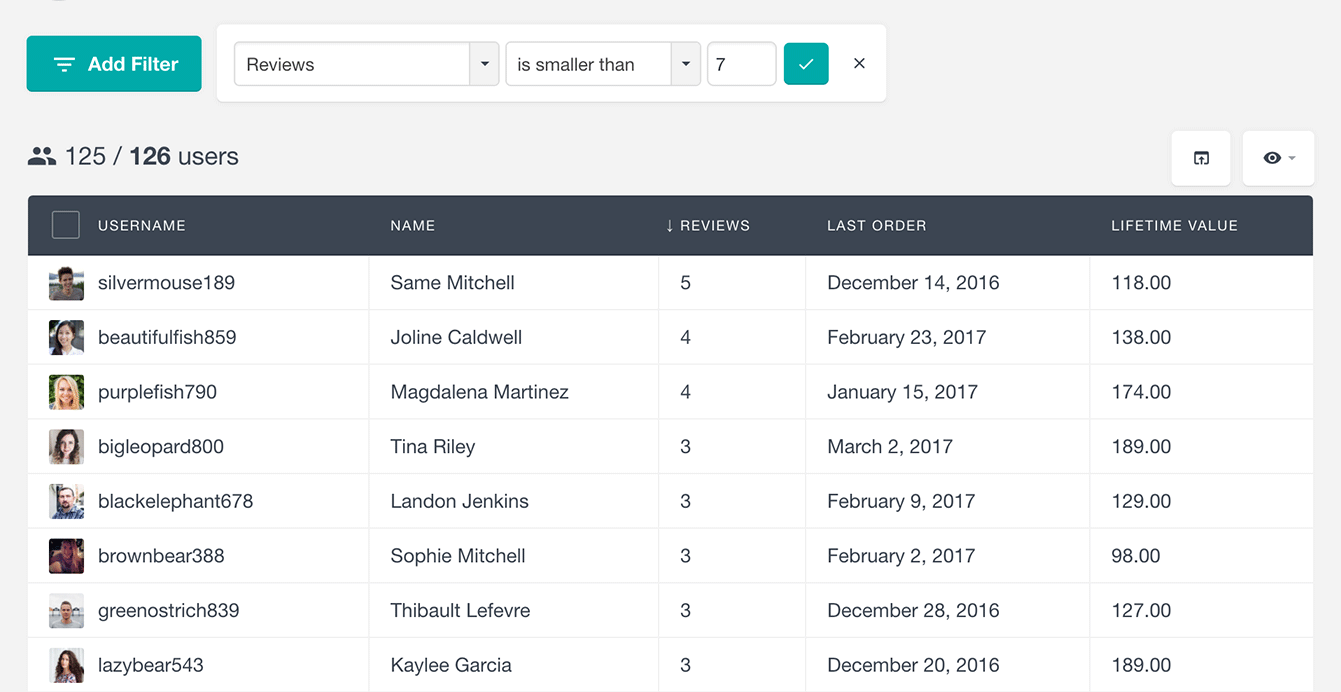 The ability to filter your customers by the number of reviews allows you to find your most active reviewers from your customers and see what they think about your products. Additionally you can also find all the customers who have not left a review yet and maybe try to incentivize them to do so.
Brand Ambassadors – Referrals and Shares
Some customers are very likely to recommend brands that they are satisfied with. In order to find your best Brand Ambassadors we'll look into referrals and shares.
Personal recommendations are incredibly valuable as they build an immense trust in your brand. Additionally, word of mouth marketing is much more effective than any other form of marketing, including ads. Not to mention that recommendations often come at no cost, so rewarding your best customers on this aspect is a great deal.
In order to measure this, we can read your plugins' data. For example, you may use plugins such as Gravity Forms or a plugin that adds a custom field to your users with their sharing counter. Another idea is using an affiliate plugin such as Affiliates. Therefore, you can read these custom fields with Users Insights, and even add different fields for each sharing platform.

Returning Customers – Repeat Purchase
Depending on the kind of product or services you have, repeat purchases are common. Therefore, keeping a customer means that they favor your brand over your competitors. So, on this perspective the best customers are the ones with the highest amount of orders in a given time.
You may look at the simplest perspective which is the amount of orders for all times. Using Users Insights, you can just make the orders column visible and sort your customer list based on that.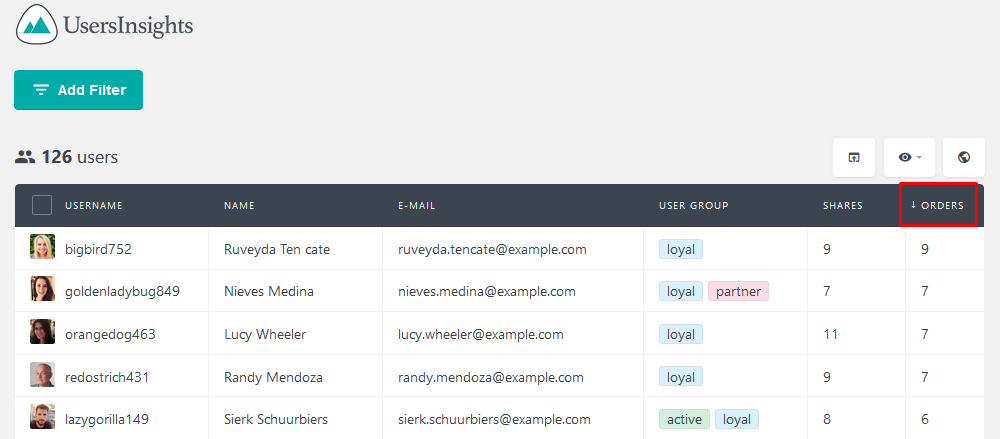 But you may want to measure this for each month, or at least each year. In this case, you can use excel to compare different periods. In order to do that you need to export your files at least once a month. Then, you can combine all your data in a single spreadsheet (either via import or via copy and paste). After that you just need to use the VLOOKUP function, to compare different periods of the same metric.

This function will look for a value in another set of data and return the matching column. In our case we'll look for the username (a2) since it's unique. The other dataset is the previous month, where we have past orders. And the column to return is the column with the order count itself.
When we have both old and new values we can compare and check how many new orders each customer has in that month.
Profitable Customers– Lifetime Value
An extended view of your customer value over time is their lifetime value. Your best customers may be the ones with the highest amount purchased. This way you can sum up all their purchases and compare with other customers.
In order to do this you need to enable the lifetime value column. Then you'll be able to see all how much each of your customers has spent on your store.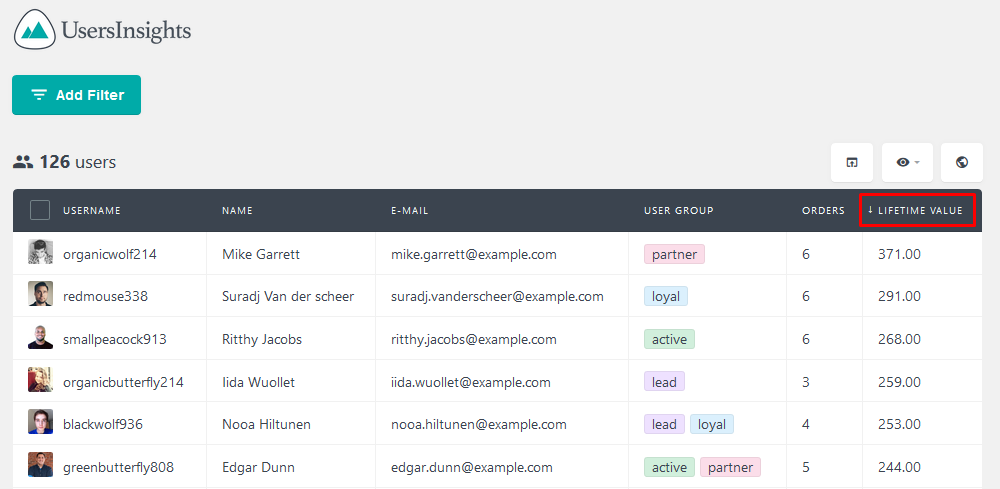 Similarly to the repeat purchase rate you can compare the lifetime value over time, to check which customers are moving up or down on this metric.
Profitable Customers – Average Ticket (Average Order Value)
Our final perspective is an extension of the previous two metrics. In order to truly find your best profitable customers, you may want to check their average ticket size (average order value). This metric will divide their lifetime value by the amount of orders they've got. In this way you'll see how much you are likely to profit next time they buy.
This is important to know, so you can bring more and more profitable customers. You can analyze their buying patterns and see how you can replicate this with other customers as well.
To get to this value, you need to export both your number of orders and your lifetime value.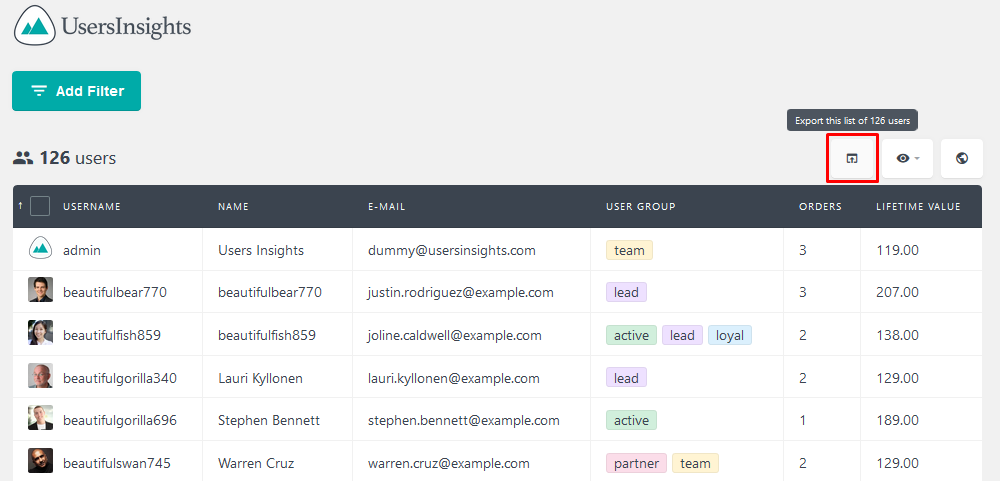 Then you can use a spreadsheet management software such as Excel to divide the lifetime value by the orders to get the Average Ticket value.
And if you want to, you can order your results by the largest values, so you'll see the best customers first.
Conclusion
Today we looked into several different ways to define your best customers with WooCommerce, Users Insights and WordPress. We also talked a little bit about the different perspectives that you can measure, and we saw  some advanced techniques to get more detailed metrics.
We hope you enjoyed this WooCommerce customer analysis. See you next time!