How to track products customers viewed in WooCommerce
In this article, we are going to learn how to see what products a customer has viewed while browsing your WooCommerce store. We are also going to see how to use the recently viewed product data to improve your store performance.
Shopping can be quite stressful and time-consuming for customers. People often get distracted by choices and decisions that they have to make in order to complete the purchase. This is why shop owners have to do everything that is in their power to make the decisions making easier and more straightforward.
One way to help customers with the decisions making is with product recommendations and by trying to only show the customer the relevant products and not overwhelm them with too many choices. This is where having some information about what products customers recently viewed can be helpful. There are a few different use cases where having information about recently viewed products by customers can be used to improve your WooCommerce store user experience:
Showing the customer history of their recently viewed products. The pest products to recommend to customers are products they were interested in, in the past (but have not purchased). This is usually done on the recently viewed products page via a personalized list of products that simply reminds customers about products that they have looked at, in recent times.
Display the recently viewed products by all customers as the top most popular products right now. This is a version of showing the best-selling products but instead, we are using the most visited products as a way of measuring product popularity and interest.
Product recommendation by showing customers who have recently viewed this product have also viewed this product. This is a product recommendation technique used famously by Amazon and it is a combination of showing popular products (social proof) and relevant product recommendations at the same time. The "WooCommerce customers viewed this product also viewed" this product functionality is usually provided by a third-party WooCommerce plugin and added to the single product page via shortcodes.
Showing a number of people viewing the product in real-time. This is another version of social proof where while viewing the product a notification is shown on the single product page showing how many people are viewing the same product at the same time or in a very recent time frame.
How to view recently viewed items by customers in WooCommerce
The page visit tracking feature of Users Insights allows you to track which pages has a customer visited right from the WordPress admin. You can see the most recently visited pages for each WooCommerce customer on the user profile page. Since WooCommerce product pages are also WordPress custom post types you can track the most visited products as well.
To see the most recently visited WooCommerce products by a specific customer all you have to do is open the profile page and navigate to the "Last visited pages" under the "Activity" section.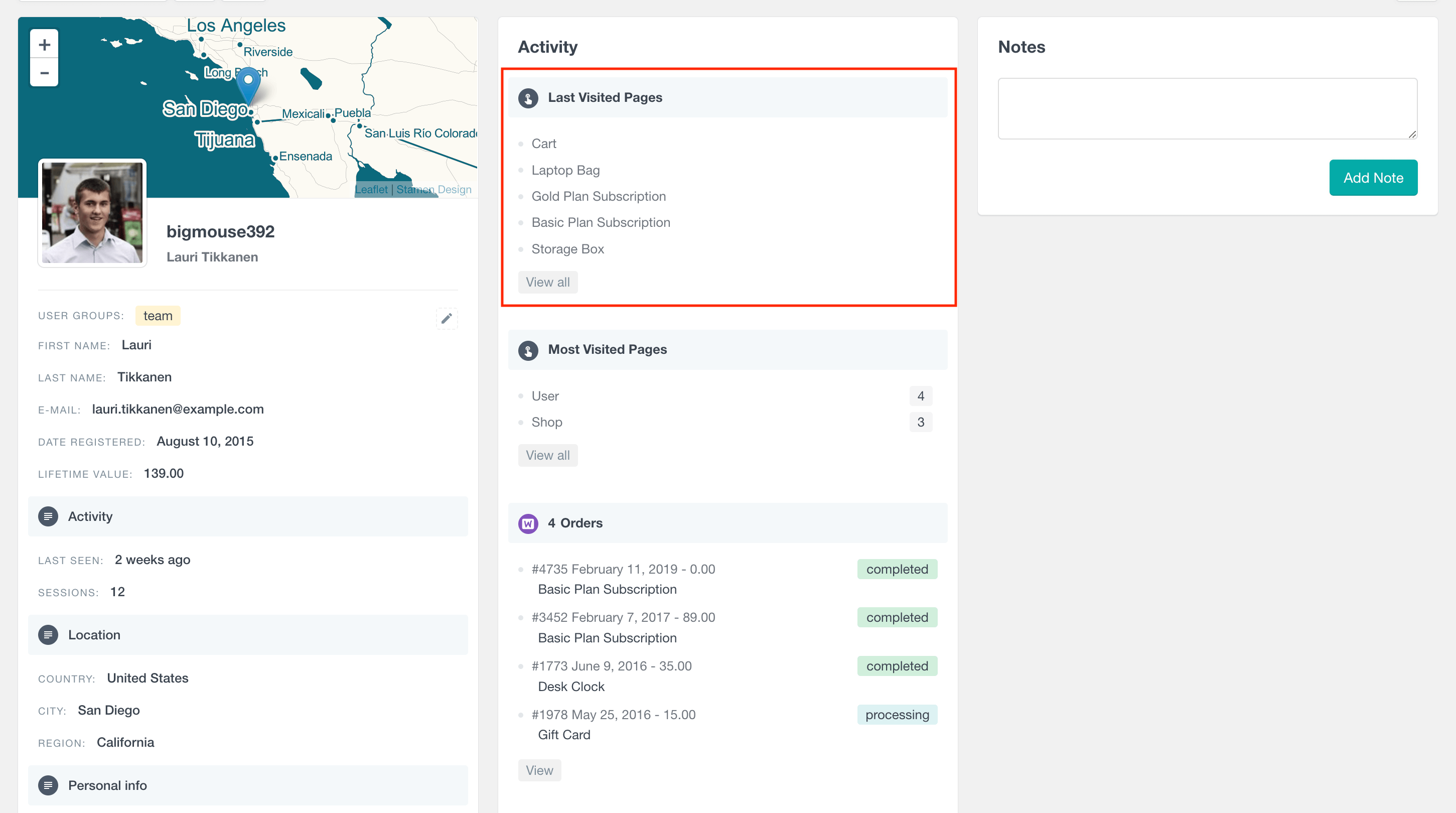 If this section is not available on your website, make sure that you have the section shown via the profile settings menu in the right section menu and that you have the " Page visit tracking" module enabled in the Users Insights settings section.
By default, this section is only showing the 5 most recently visited products if you click on the "view all" button you can see a list of the 20 most recently visited pages.
Most viewed products by WooCommerce customers section
Most viewed products show the products which are viewed most by the customers. When used internally, it is a very useful tool for store owners to see what products are being viewed most and also helps in increasing sales. As a shop owner, recently viewed products for WooCommerce is a great way to keep track of what products your website visitors are interested in. By keeping track of what products are being viewed, you can make sure that you're always offering the most relevant products to your top visitors, which can lead to more conversions.

This section can also be accessed via the WooCommerce user profile section of Users Insights. On the right side, you can also see the number of times the customer has visited a specific product.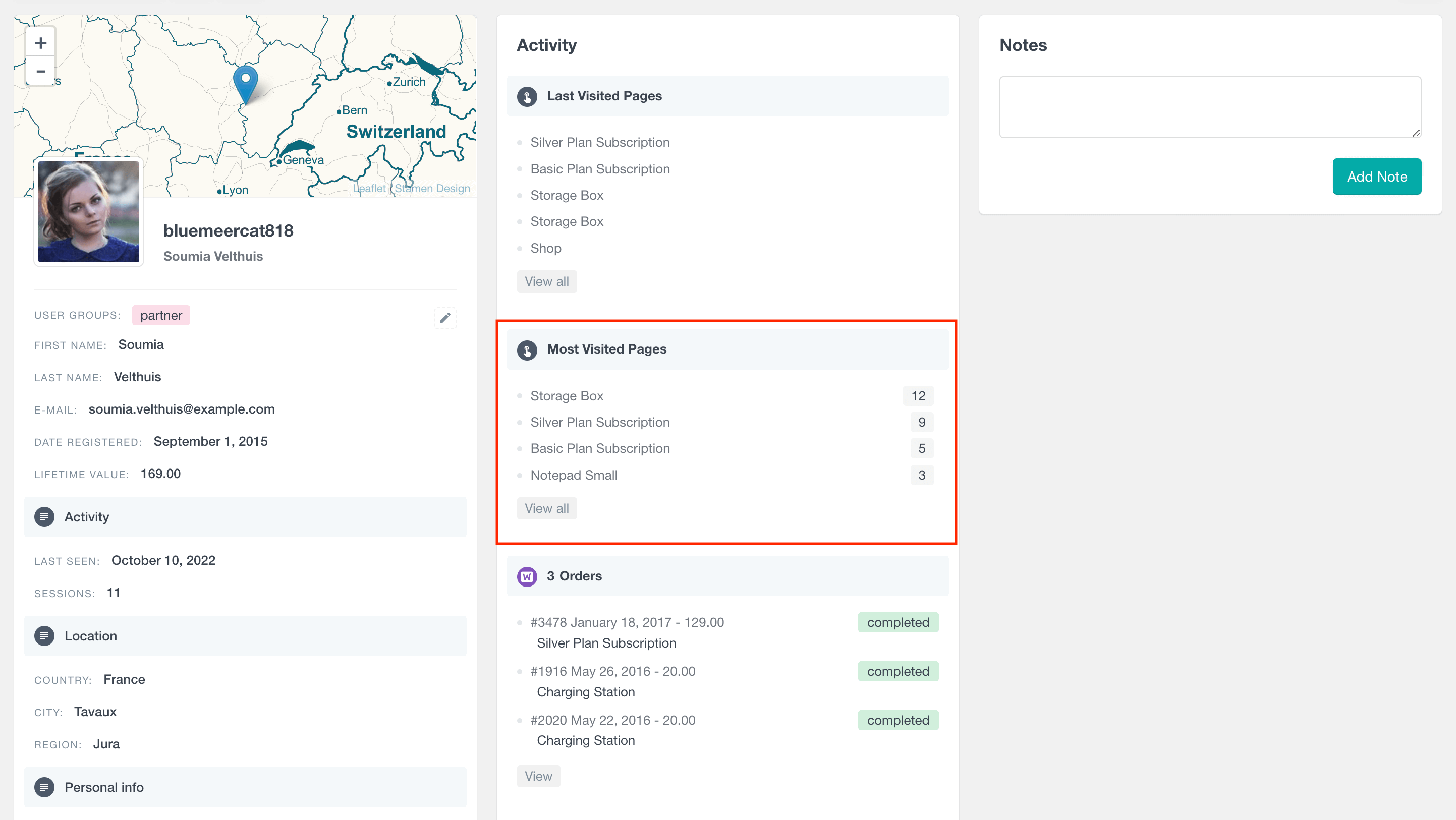 By default, it will show the top 5 most visited products but you can expand the number of products list to show the top 20 most visited products.
WooCommerce Recently Viewed Products Plugin
Plugins for recently viewed products are a great way to keep track of the products your customers have viewed and make it easy for them to consider them again. The plugin helps you to show the customer's most recent view of a product in the WooCommerce shop. WooCommerce recently viewed product plugins allow you to display a shortcode or widget on your product page, cart page, or sidebar. This type of plugin is great for many shop owners because it makes it easy to convert by allowing customers to view their products again before they leave your site.
WooCommerce customers viewed this product also viewed
Amazon shows recently viewed products to grow sales. By showing recently viewed products, Amazon encourages visitors to browse and buy items that they may not have considered previously. This strategy can work for any Woocommerce store, by showing a list of "WooCommerce customers viewed this product also viewed" items. By encouraging visitors to view more related products, the store can increase sales and encourage return customers.
To find a list of all customers who have visited one product and have also visited another one you can use a combination of two "Has visited" product filters like this:

Conclusion
As you can see having data about recently viewed products by customers can be a very useful tool. You can use this data to target customers with personalized advertisements. You can also use this data to upsell and cross-sell related products. Finally, you can use this data to make product recommendations to customers. For example, if a customer has recently viewed a product, you could recommend other products that they might be interested in based on their viewing history.