How to send WooCommerce customers to Mailchimp
Have you ever wondered how you can send separate segments of your WooCommerce customer emails into one Mailchimp list? In this tutorial, you will learn exactly how to bulk send your WooCommerce customer data to a separate Mailchimp list.
Why use Mailchimp marketing automation with WooCommerce
Mailchimp is a powerful email marketing tool that can help you automate your WooCommerce store's marketing campaigns and connect with your subscribers. With its easy-to-use plugins and wide range of features, Mailchimp can help you save time and grow your business.
Building an email marketing list with WooCommerce and Mailchimp
When it comes to growing your WooCommerce store, one of the most important aspects of email marketing is building your marketing list. You can do this in a few ways, including adding a sign-up form to your website, using a lead magnet, or running a contest. Each of these methods can help you grow your list and get more people interested in your products or services. But one of the most effective one is to use email marketing on your existing customers. You see, existing customers are far more likely to purchase a product from you for a second time than it is for a new potential customer to convert for the first time. This the value of returning customers. How to add WooCommerce customers to MailChimp
In this tutorial we are going to explore the different ways you can export your WooCommerce customers emails into Mailchimp. If you prefer a video format, here is a detailed video that covers all of the aspects explained in this tutorial:
There are many ways to add new WooCommerce customers to MailChimp, but the most common and straightforward method is to use the WooCommerce integration plugin. This method will connect Mailchimp with WooCommerce. The WordPress plugin will then add new customers automatically to your MailChimp email marketing mailing list as new subscribers when they purchase from your WooCommerce store.

To add new WooCommerce customers to MailChimp, you'll first need to set up an integration plugin between the two platforms. Once that's done, any new customers created on your WooCommerce store will automatically be added and synced to your MailChimp mailing list. This is a great way to keep your email list up-to-date and populated with engaged subscribers who have already shown an interest in your products or services.
The downside of this method however is that these integrations usually provide no or minimal options to choose which customers to be added to which Mailchimp list. Usually, they either add all of the previous WooCommerce customers to Mailchimp or they only send the new WooCommerce customers to Mailchimp.
Add new WooCommerce orders to Mailchimp lists
Adding new WooCommerce orders to Mailchimp lists is a great way to keep your customers up-to-date on your latest products and promotions. By integrating your WooCommerce store with your Mailchimp account, you can automatically add new orders to your Mailchimp lists, making it easy to stay organized and keep your customers informed.
We can find all the customers who have made a new order by applying the "Last order" date filter and selecting the appropriate date:

By adding new WooCommerce customers to Mailchimp, you can easily send out targeted email campaigns that will boost customer loyalty and retention. Plus, you'll be able to track the success of your campaigns with Mailchimp's detailed reports.
Register all orders performed on your store to MailChimp
If you're using MailChimp to manage your email campaigns, you can automatically register all orders from your store in MailChimp. This way, you can keep track of your customers' purchase history and target them with abandoned cart emails or other relevant campaigns. To do this, simply connect your store to MailChimp and enable the "Register all orders" setting.

Remind WooCommerce users to review products with Mailchimp
Mailchimp can remind WooCommerce customers to review the products they have purchased. This can be done by setting up an automated email campaign that is triggered when a customer purchases a product. The email can include a link to the product review page on your website, and can also include a discount code to encourage customers to leave a review.

WooCommerce product recommendation with Mailchimp
If you're looking for a way to recommend products to your customers based on their purchase history, WooCommerce and Mailchimp are great combinations. With WooCommerce, you can easily track customer purchase history and preferences, and with Mailchimp, you can create targeted product recommendations and send them to your customers via email.

Mailchimp abandoned cart WooCommerce
Mailchimp abandoned cart WooCommerce is a powerful tool that allows you to recover lost sales and boost your conversion rate. It integrates with your WooCommerce store and automatically sends abandoned cart emails to your customers, reminding them to complete their purchases.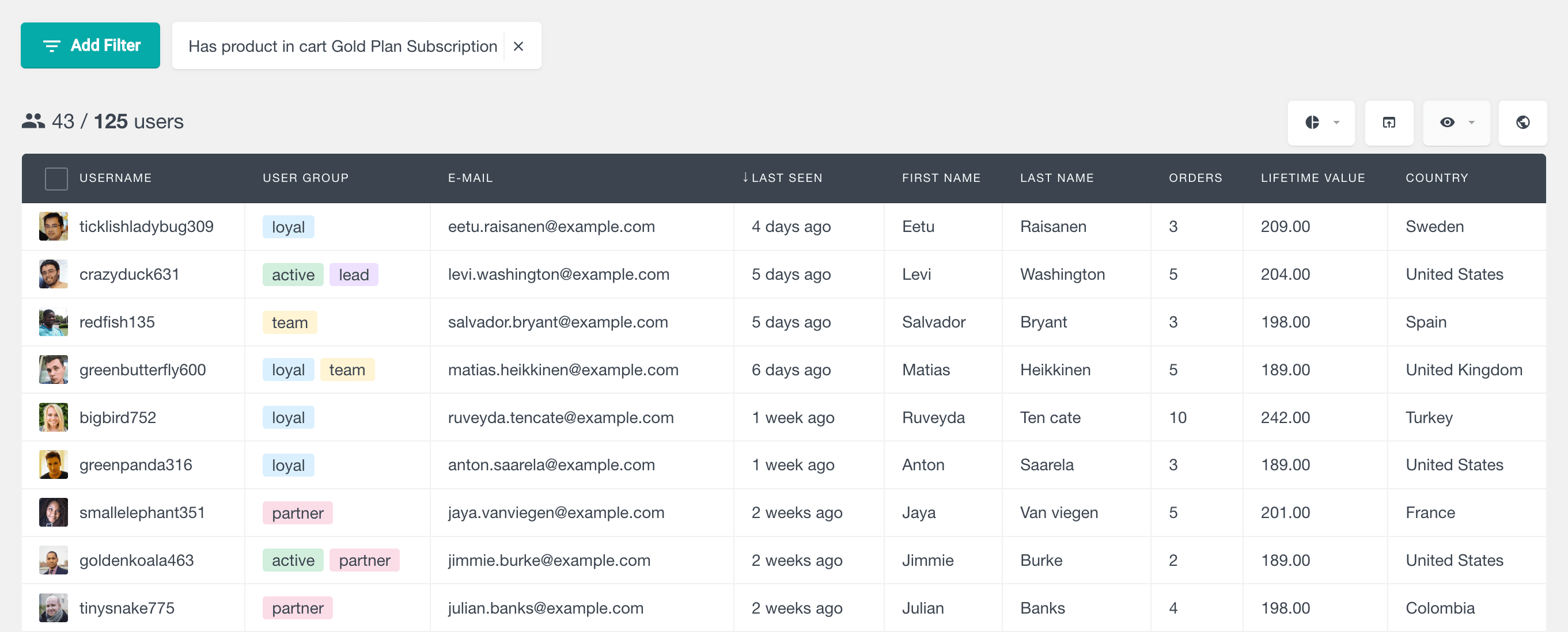 Conclusion
In today's tutorial, we have covered the different ways that you can import WooCommerce customers' emails into Mailchimp. We have seen how you can use Users Insights to search and filter your WooCommerce customer data by different criteria and some of the different use cases. We hope you find this useful.