How to sell gift cards with WooCommerce
In this article we look into how to sell gift cards in your WooCommerce store. We analyze different options and how to set them up with free and premium plugins while comparing their capabilities. Then, we dive into different analytics you can track to measure how WooCommerce gift cards impact sales.
Gift cards as product allow the buyer to do something nice. In addition, the receiver gets to choose whatever they want. For store owners, gift cards are a great way to secure a sale. If the gift giver is unsure about what to buy, a gift card is a safe choice.
In some cultures, gift cards are everywhere. In Germany, for example, almost every store has it from gas stations to groceries stores. WooCommerce doesn't have an option for selling gift cards this by default, but there are many tools the help you achieve this. The best ones are simply using a WooCommerce gift card plugin. This WooCommerce is still used for the main store management. On top of it, you use a plugin just to create this new product type for WooCommerce gift cards.
Now let's look into some options for free and premium plugins to do this. In addition, let's see how to set it up, and how to measure our gift card sales with Users Insights. Free WooCommerce gift card plugins
There are many free WordPress plugins for WooCommerce gift cards. Here are some good free options:
PW WooCommerce Gift Cards
The PW WooCommerce gift cards plugin allows you to quickly create gift cards and manage them. Once it is set up you have a new product type in your store, the gift cards. With it, you can create multiple gift cards options for your customers.
Once a customer buys it, the receiver gets an email link. This link automatically applies the gift card credit to their shopping cart, making this experience seamless. In addition, it's possible to export and print out gift cards in case you want a physical version as well.

Gift Up! Digital Gift Cards
The Gift Up! Digital Gift Cards is a complete gift card solution that includes WooCommerce support. This is a free solution to sell gift cards not just in WooCommerce, but in any WordPress site. In addition, it works even with Facebook and other external platforms. This works because GiftUp is actually a gift card platform in itself.
With it, you can create custom-designed gift cards. They can be used in your stores among multiple platforms. Then, you can use a shortcode to include the gift card selling options in your site.
The downside of this approach is that you rely on an external service. Although the designs look professional you have to pay processing fees (3.49%).

Premium WooCommerce gift certificates plugins
Gift Cards
Gift Cards is intuitive and simple way to sell and accept pre-paid, multi-purpose e-gift vouchers on your WooCommerce store. It comes with features such as: simple and variable gift cards, expiring gift cards codes, custom delivery date, multiple recipients and more. Every time your online store receives an order for a gift card, this extension will generate unique gift card code of equal value and sent to the specified recipient. Once your customer receive the gift card they can can:
Use it to pay for orders by entering the code directly at checkout or
Add the gift card to their account for later use.

YITH WooCommerce Gift Cards
The YITH WooCommerce Gift Cards plugin comes with a powerful brand behind it. This plugin has a free version, but the premium version really shines. With it, you can create, sell gift cards and allow users to set custom values to them. In addition, you can set minimum values, custom gift card images and even PDF versions of your gift cards.
These features bring a touch of customization that isn't possible with the free versions. The main disadvantage is regarding external product integrations, which are always hard to manage. Therefore, it won't automatically integrate even with other Yith products out-of-the-box. Either way, it's a solid option for your WooCommerce gift card implementation.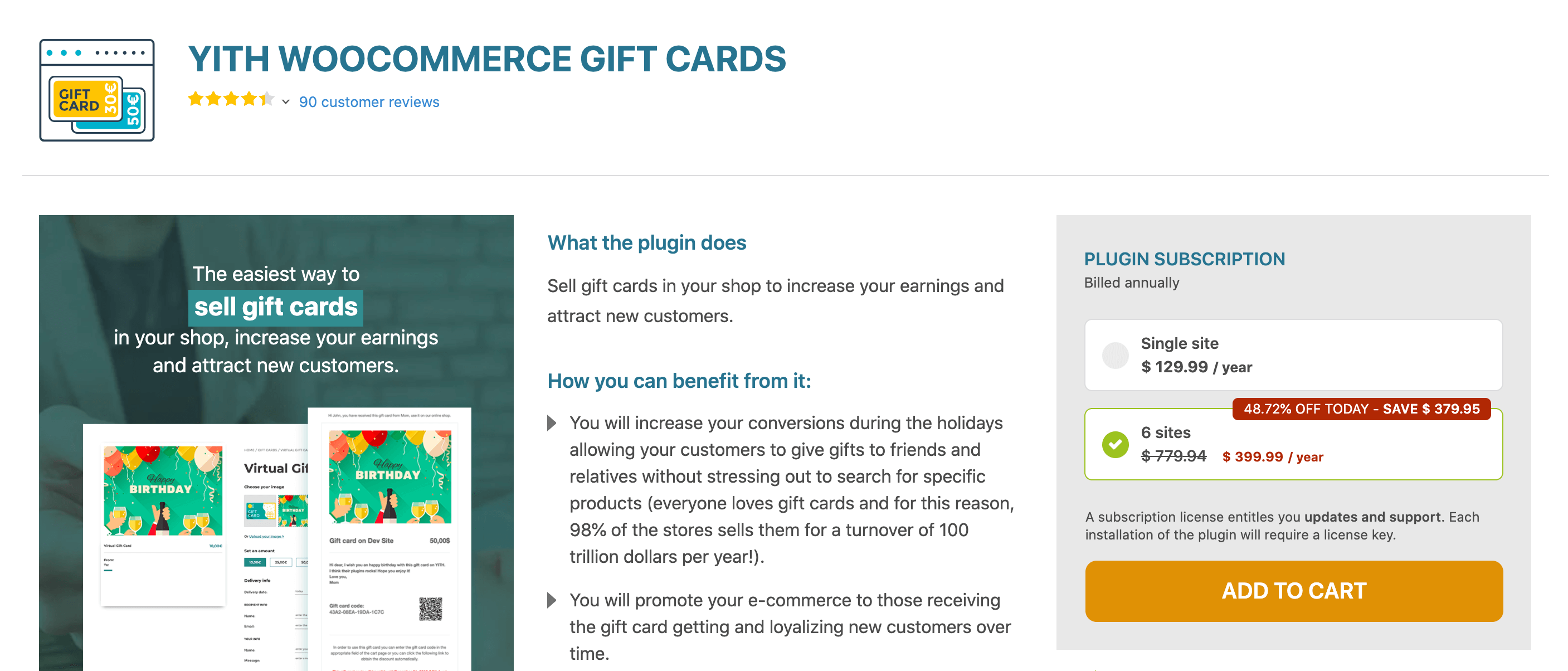 WooCommerce Ultimate Gift Card
The WooCommerce Ultimate Gift Card plugin is a great CodeCanyon option for selling gift cards. This plugin is focused on events-based gift cards and even has themed designs. As usual for the premium options, this plugin allows gift cards with price ranges for customers.
Another interesting feature is regarding gift card usage. You can limit product categories for your gift cards, excluding or adding just the ones you want. In addition, you can set expiry dates for your gift cards or apply cards depending on the total purchase price.
This plugin is a complete toolbox for online and offline gift cards. The main downside seems to be regarding customization, as it is done only via coding at the moment. Therefore custom designs may be hard to achieve.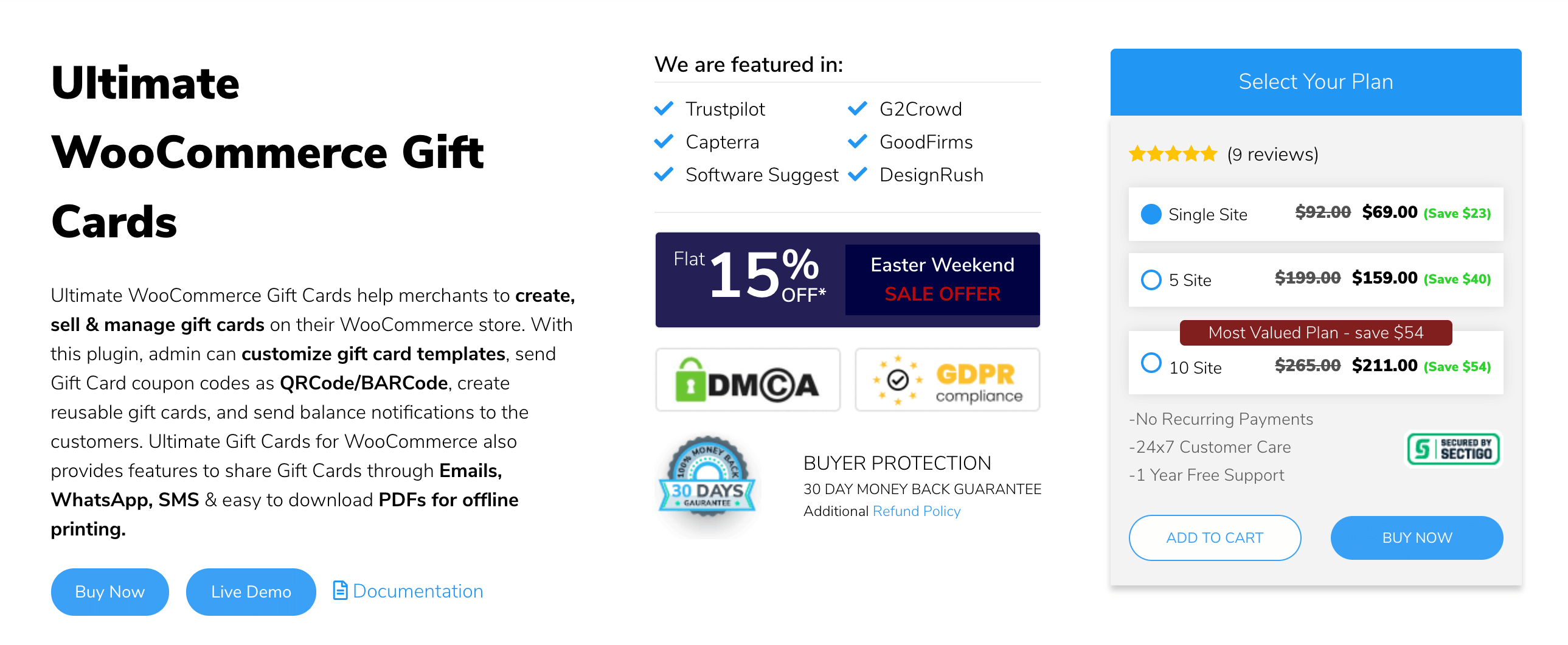 How to set up gift cards – WooCommerce & PW WooCommerce gift cards
Now it's time to go through setup from start to finish. We picked PW WooCommerce gift cards, and it is a great freemium solution. In addition, it is very simple to set it up.
The first step is simply adding this plugin to your WordPress site. As usual, this is done via the WordPress Dashboard > Plugins > Add new.
Once this is done you get a new option under WooCommerce > PW Gift Cards.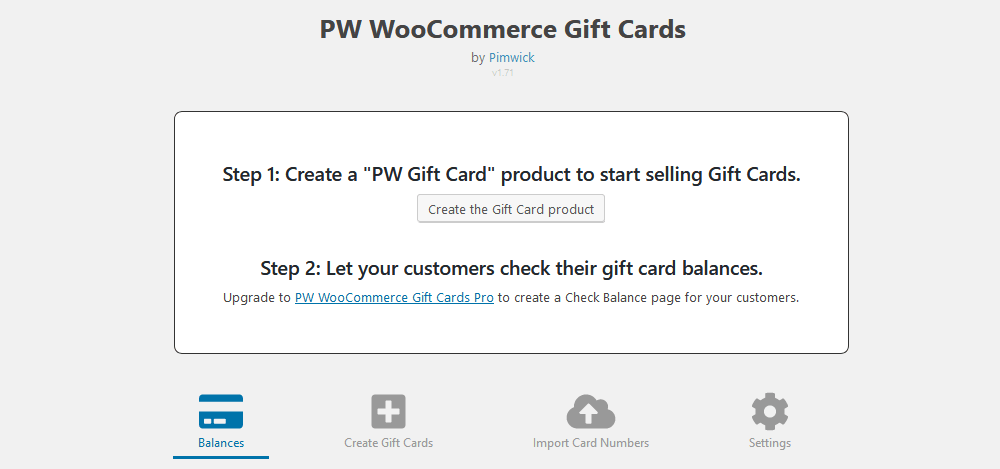 As advertised, their setup is done with the click of a button. When you click "Create the gift card product" your basic gift card options are ready. That's done by a WooCommerce Product called gift cards. This is a regular WooCommerce product, which can be edited for new Gift Card options.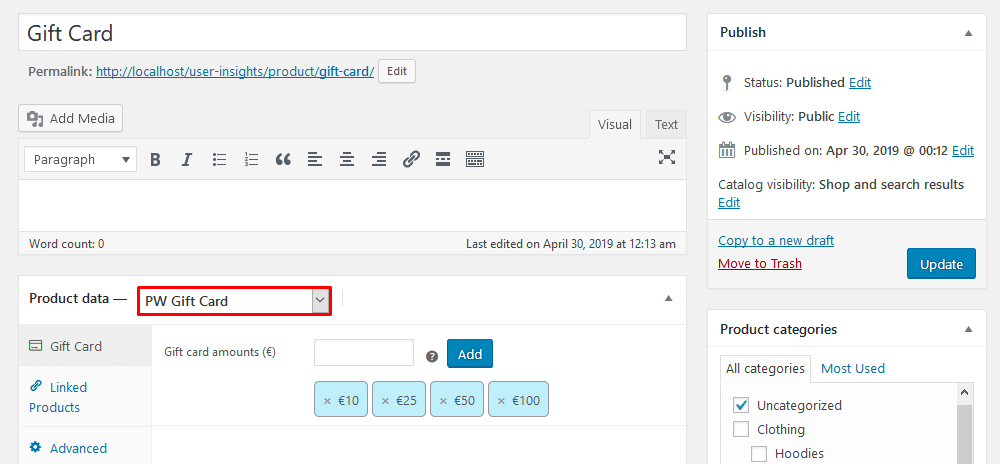 If you are a Pro user, there are additional options. For instance, you can set gift card price ranges not just fixed values:



These ranges are rendered to your customers as a product options field. Therefore, they can enter the amount they want and it is checked against your setup limits.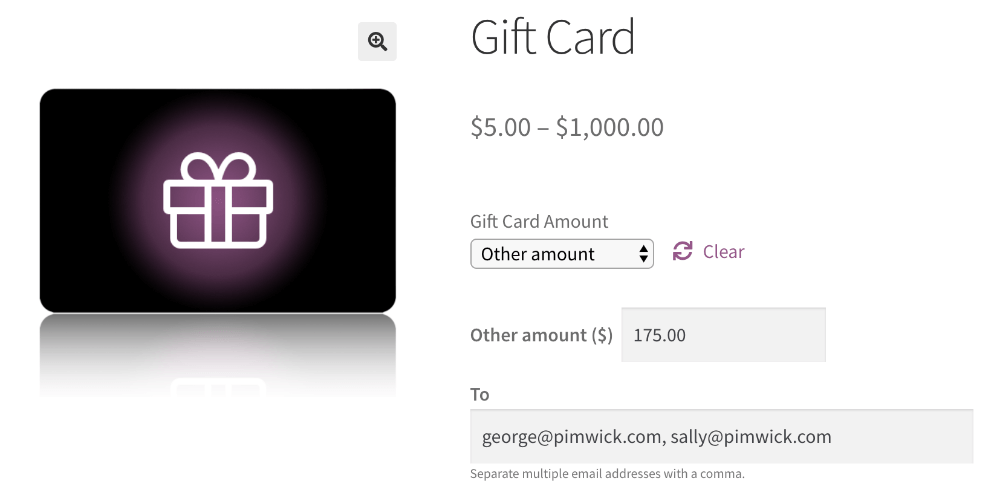 And that's it! Once you receive some orders, your users will get a link and the actual gift card via email. It looks like this: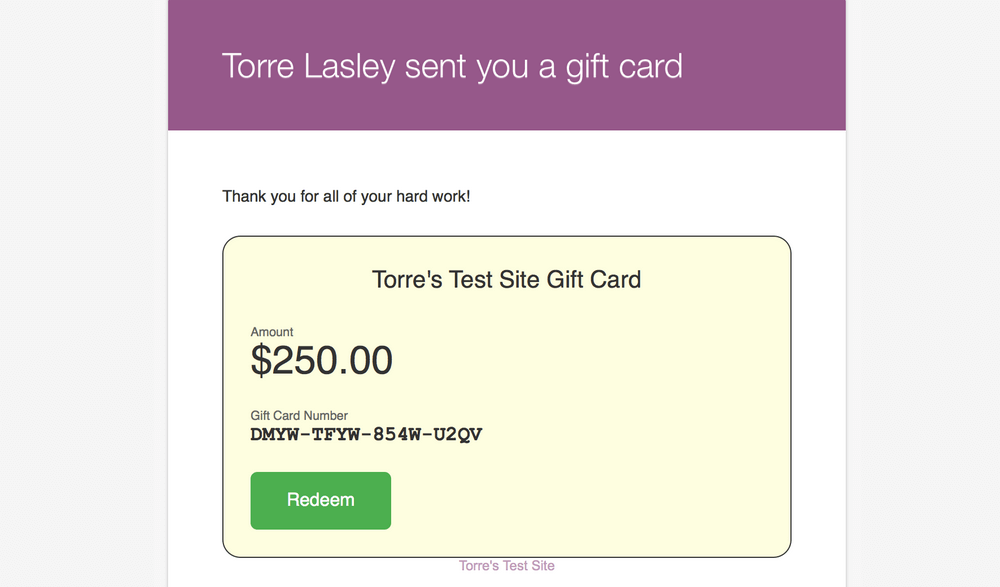 Analyzing your gift card sales
Once you have some sales, it's time to analyze our data. Users Insights has a WooCommerce integration module, that allows you to read order information in the users' table.
For example, it can be used to filter users who buy gift cards for their loved ones. In order to get a list of your gift card buyers, you can use "placed an order" filter:


This information is invaluable. We could, for instance, export this users list. On the next seasonal sale, you may want to get in touch with these users with MailChimp or similar. This is a great opportunity to send these users new offers for gift cards. You can use the export function for that: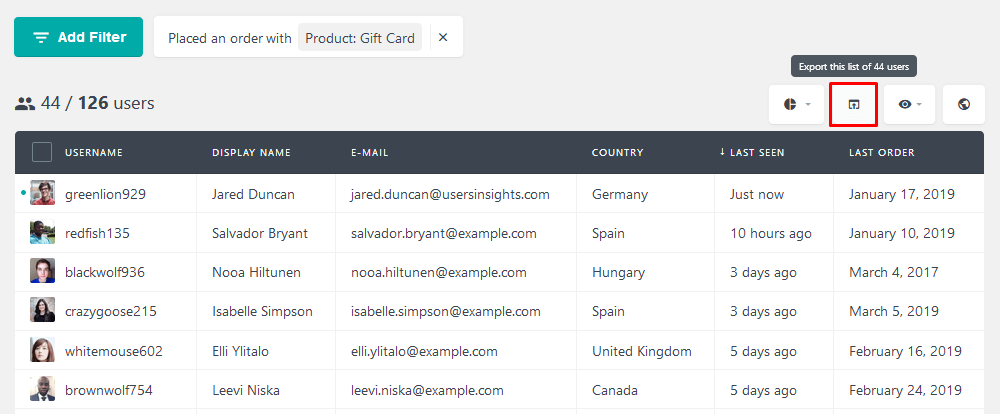 There are many other uses regarding customer information and behaviors. For instance, you can filter all users from the US, who bought gift cards near Christmas. When next Christmas comes it could be effective to get in touch with them with new offers.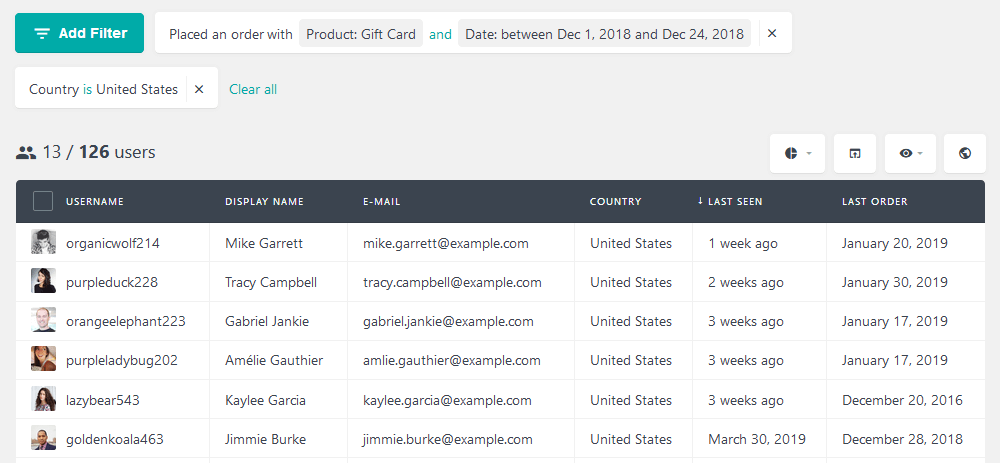 Conclusion
Today we looked into different options for WooCommerce gift cards plugins. In addition to free and pro options, we went through an entire setup to see how it works. Then we dive into some analytics for order behaviors. This allows you to measure the impact of your gift cards in your store.
We hope you enjoyed and see you again next time!