How to Import Your WordPress Users from a CSV File
As a business owner, you probably know that it's impossible to be good at everything. The same rule applies to software. WordPress chooses to keep its core as simple as possible, yet powerful for content management and incredibly easy to customize and extend. It also helps a lot that it has a great community-focused development approach so they build features that help the community and that are easy to extend and customize if they aren't exactly what we need.
That's why plugins have an important role in the WordPress ecosystem. They help you turning a simple WordPress site into a powerful system. Today we are going to talk a little bit more about the user management aspect of WordPress, with special care about user imports.
If you have another software or even another WordPress site with user data that you want to re-use you have no options to do that by default. In this guide we are going to share with you some great tips on different tools that you can use depending on the kind of migration that you are planning. We are also going to share with you some ideas that maybe you never thought of.
This guide will help you not only with the import of the users from another site (using CSV files for example) but we're also going to show you how to keep the user meta data such as orders, contact information, user group, user status (e.g. potential, lead, client, influencer).
Our main objectives today are:
Check 2 plugins that can be used to help you import your users
Give step by step guide on how to install and use one of them
Describe an export process from another WordPress site
Describe the export process from another kind of software
Let's get right into it!
Importing users – a few options
One of the greatest things about WordPress is that you usually have a lot of options of plugins to extend it. When you have a common issue that you face, rest assured that probably there's a plugin for that.
But with a big selection of plugins, it's also hard to find out which one is the best for you, and let's face it, nobody wants to invest a couple of hours for each plugin setup to discover that it just won't fit your needs – even if it's a free plugin.
We've done the heavy lifting for you, we've picked the top 2 out of the many options out there and we'll get into their pros and cons.
Import Users from CSV with Meta This plugin has more than 20,000 active installs and is updated quite often, which is always a good thing. It also looks like most (if not all) support threads are replied and the docs may help you getting started as well.
This plugin has good ratings but has a few limitations. For example, the dataset has to be in a specific format (username and email have to be the first columns) and this may not be so easy to handle depending on how you are exporting this data.
As far as we can see the plugin author is improving it often, and a good point is that this plugin is fully focused on the user importing process, as opposed to others that try to do a lot of other things (and may end up splitting resources between different sets of features that can be too confusing).
If you want to give it a try you can download the Import Users from CSV with Meta plugin.
WP Ultimate CSV Importer (CSV Import for WordPress)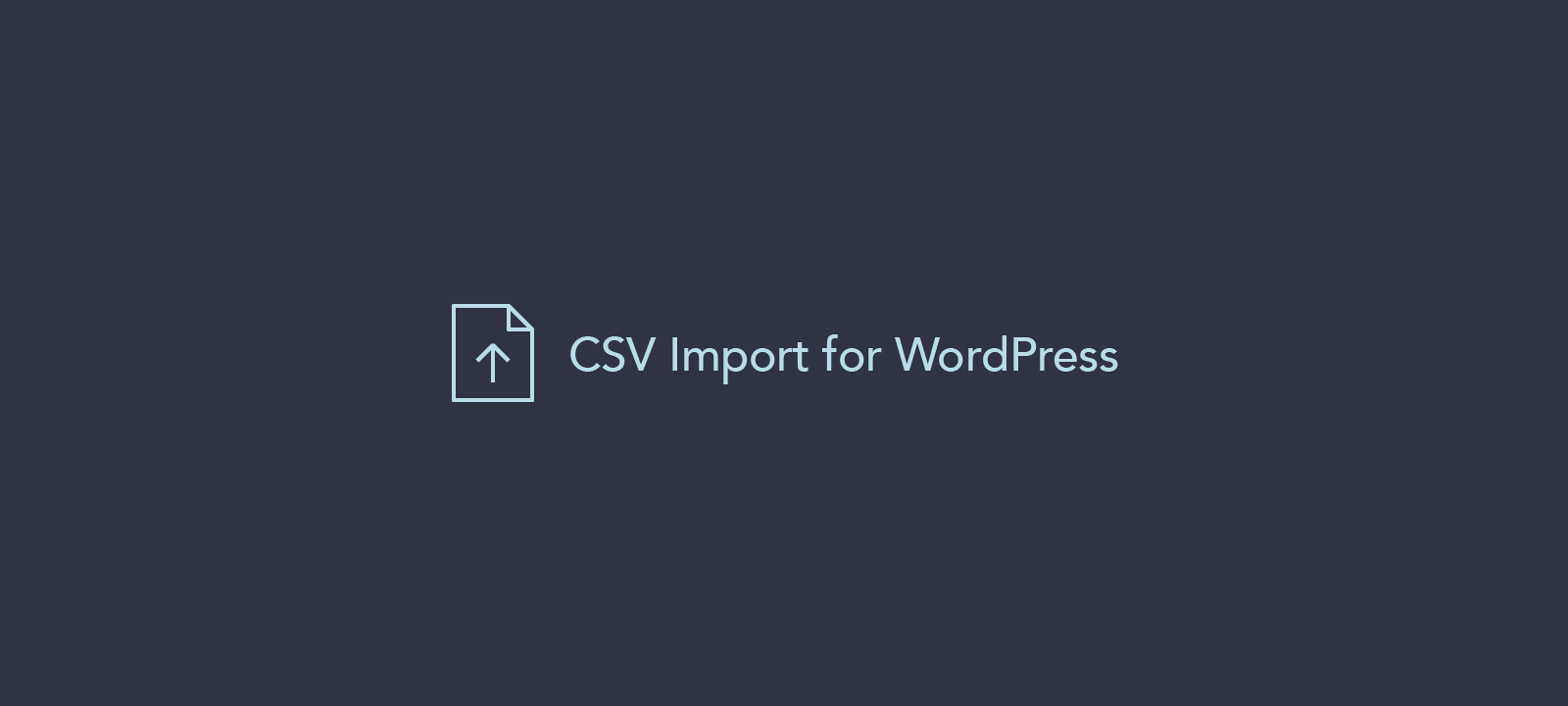 This is a more well-rounded plugin, that has not only the user import mechanic but also a lot more, including post, media, comments and custom fields import and export. This plugin also has out-of-the-box integration with Gravity Forms, WooCommerce, MarketPress and others.
With 10,000 active installs, this plugin is also a popular alternative to "Import Users from CSV with Meta", but may be a bit confusing to use at first due to the big amount of different options and different features.
Their support team isn't as active as the first option, but still good enough for a free plugin as most of the topics do get a reply.
We'll use this plugin for demo purposes today as it has a better UI, in special during the import and mapping process, which may come in handy for users that are coming from other softwares (such as CRM, ERP, Mailing lists). Also, since this is a more complex plugin you will benefit more from us trying this one out, as there are more different options to explore.
If you want to follow along and try it for yourself feel free to download the WP Ultimate CSV Importer plugin.
Now let's see how the general import process works.
How to install and use the "WP Ultimate CSV Importer" plugin
Since this is a free plugin and is hosted at WordPress.org you have 3 options to install it. The first one is via WordPress Dashboard > Plugins > Add new and search for their name. The second option is downloading the zip file and uploading it again via WordPress Dashboard > Plugins > Add New > Upload. The third option is via FTP – just download the plugin file, extract it and upload it to wp-content/plugins folder.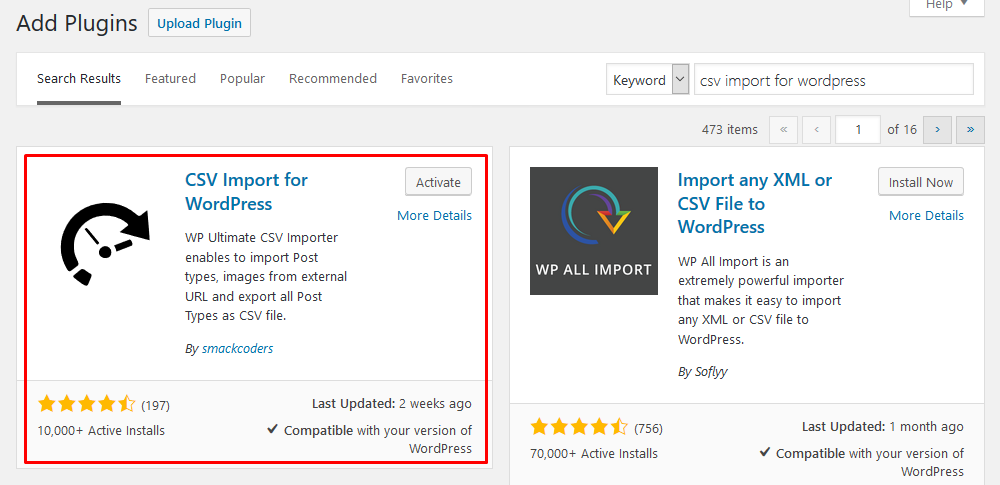 After this, all you need to do is to activate the plugin, so you'll have the new menu for importing options.
Preparing your import data
To prepare your WordPress export you can use any tool that allows you to export your WordPress users in a CSV file. If you are using Users Insights you can export all your user metadata, but you can also export just the users that you want to. For example, in this export you may remove the inactive users. Or you could only export users who bought the product X.
The only important thing to keep in mind is that your export needs to be in a CSV file, so the plugin can read it.
Running the plugin
Before running the import, make sure to create a backup of your WordPress site, just in case something goes wrong with the import. There are many great free backup tools available, such as UltradraftPlus and Backup WordPress.
In order to start your Import Process you need to go to WordPress Dashboard > Ultimate CSV Importer Free > Import / Update. The free version only allows uploading files from your computer so just click the icon to upload a file.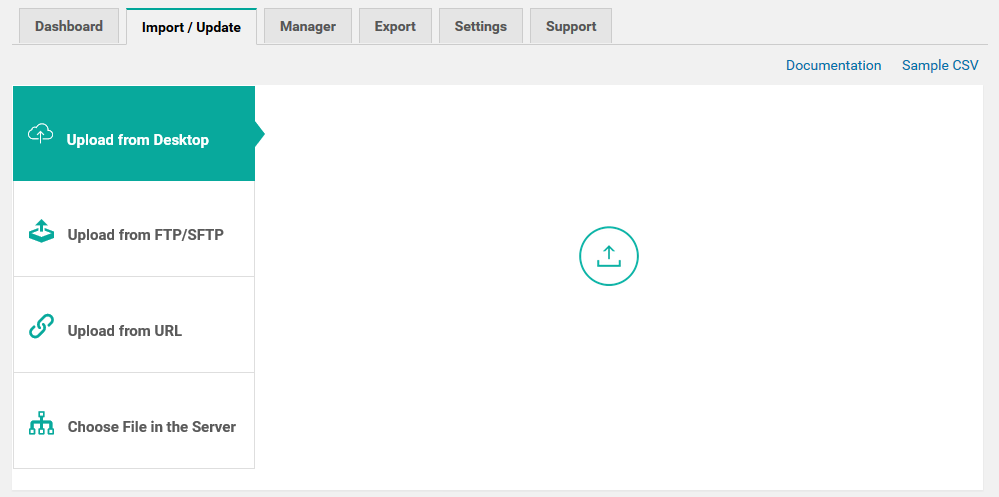 Then make sure to select to import your records as users: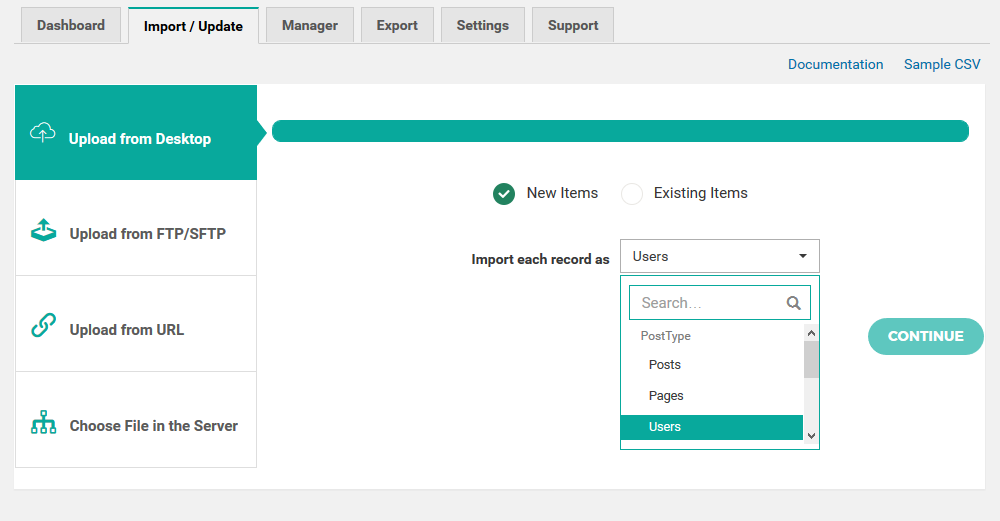 Now you need to tell the plugin which columns are which fields. Make sure to select your fields (at least the ones you've got) using the dropdown so all your CSV columns are mapped.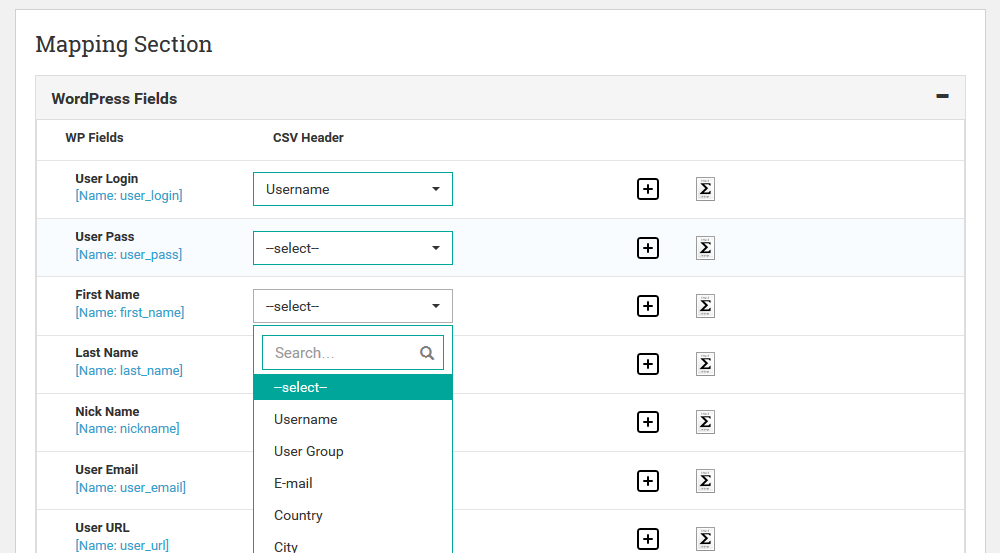 And finally, you can add custom fields on the fly, in case you have them in your CSV file but not in your WordPress install. In this way you can still save this data related to your user, and this can be used in other plugins, like Users Insights (for example if you want to keep your customer orders record, or WooCommerce data make sure to select all the custom fields correctly).

After that you can set the media handling. In case you have one of the custom fields as media files you can select here the import options. For most cases you can just turn it off and proceed.
The last step is selecting what you'll do with duplicates and if you want to run the import now or schedule it for later.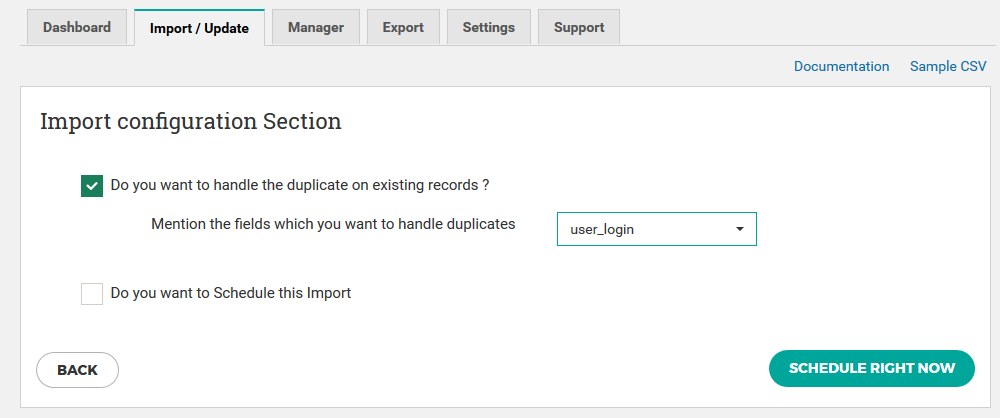 If you run it right away, there will be a log section displayed where you can see on the fly the import status and errors (if any) for each row in your CSV file.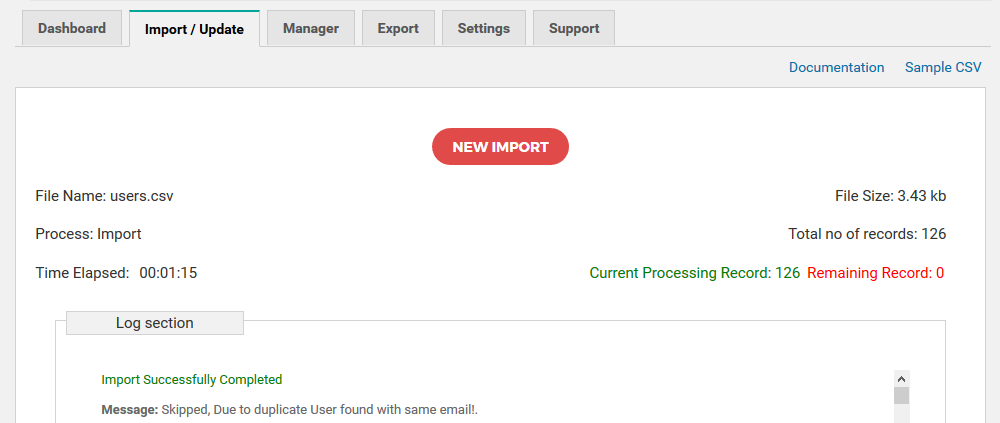 That's it! You are all set now with all your users and your custom data.
How to import WordPress users from another WordPress site
If you need to export the users from an existing WordPress site, you would need to use an additional tool to do so, since the default WordPress export tool doesn't provide an option to export your WordPress users only.
One option is to use the Users Insights export feature that allows you to export custom segments of your users and select which data exactly you be exported. For example, you could export only the users that have been recently active. After you have your desired set of users in place (or if you want them all) just click the export button and save the CSV file.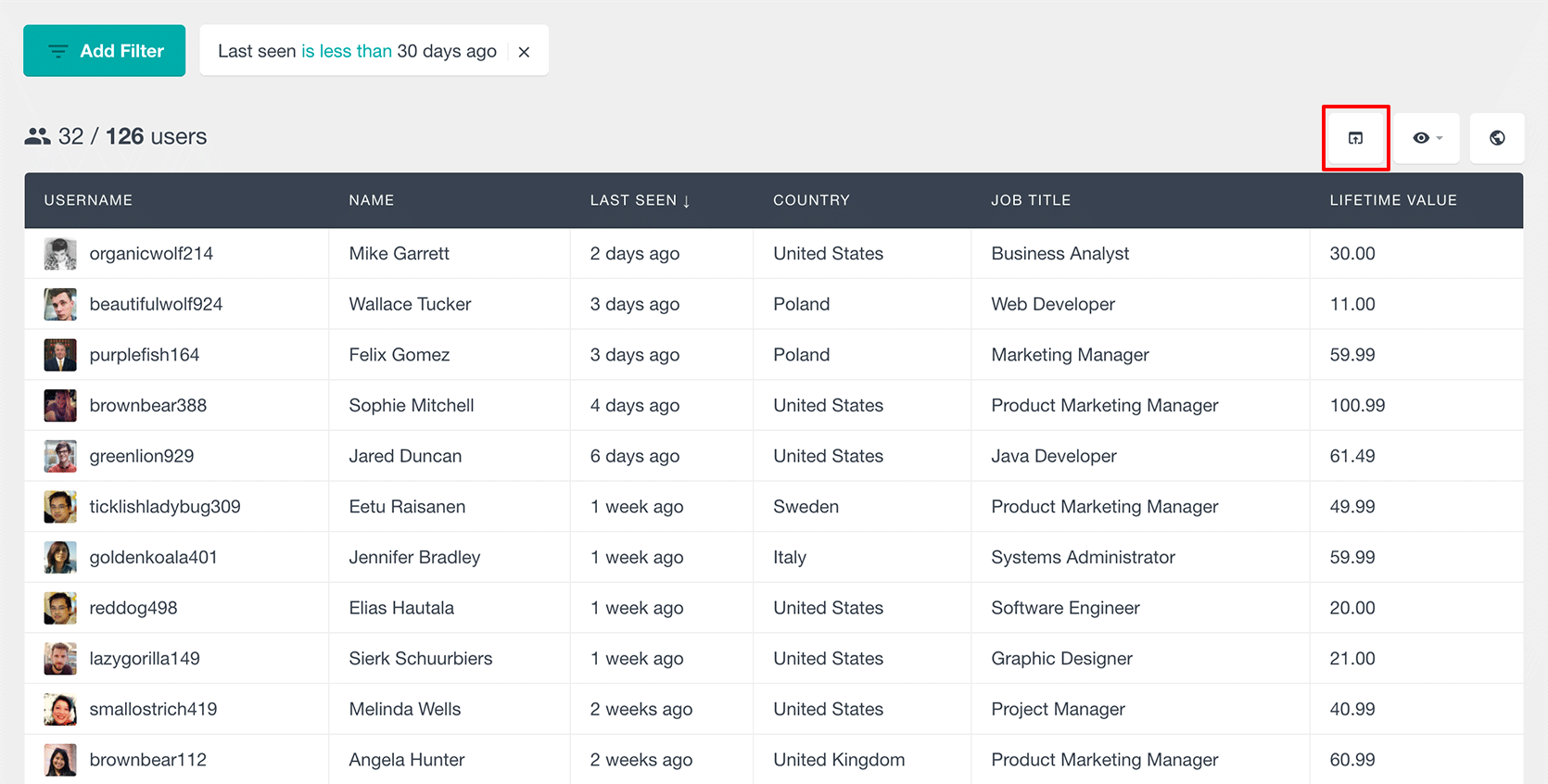 With the CSV file in place you just need to run the import process and map your user fields as we've mentioned earlier.
How to import WordPress users from any other kind of software
Maybe your current user base isn't on another WordPress site. You may have them in a mailing list (using MailChimp, for example), or in a CRM (such as Zoho), or even in a ERP (such as SAP). Either way you can still export these users and import them in your current WordPress site.
There are 2 things that you need to keep in mind:
You need a CSV file
You need your users' emails
These are the 2 strong requirements, but it's also nice if you can export all your user data (such as orders, location and company). When creating a WordPress user you'll also need a username, but you can just use the email as the username, and this will save you one field.
If your software doesn't create a CSV file, you can create a different file and use a software such as Excel to do this conversion for you. Just open the XLS file and select "save as", then select CSV as the file format and you are good to go.
Now the only remaining step is the import process itself. You can use one of the two plugins that we discussed today or even others.
Conclusion
Now you know how you can export and import WordPress users via CSV or even XLS files. In this way you can export users from a wide range of different types of softwares to WordPress.
We hope you enjoyed it and until next time!