What's new in Users Insights 3.6.1
We have just released version 3.6.1 of Users Insights, introducing some new features and improvements. One of the most exciting features of this update is WooCommerce Wishlists support. We have also introduced some new features to some of the other modules, such as Easy Digital Downloads and The Events Calendar.
WooCommerce Wishlists support
As part of its WooCommerce module, Users Insights now introduces support for two of the most popular wishlist plugins – YITH Wishlists and WooCommerce Wishlists. With this integration, you can now easily search your customers based on the products that they have in their wishlists. The wishlists are also available in the user profile section, where you can see the products that each customer has added. Head over to the WooCommerce page to learn more about this feature.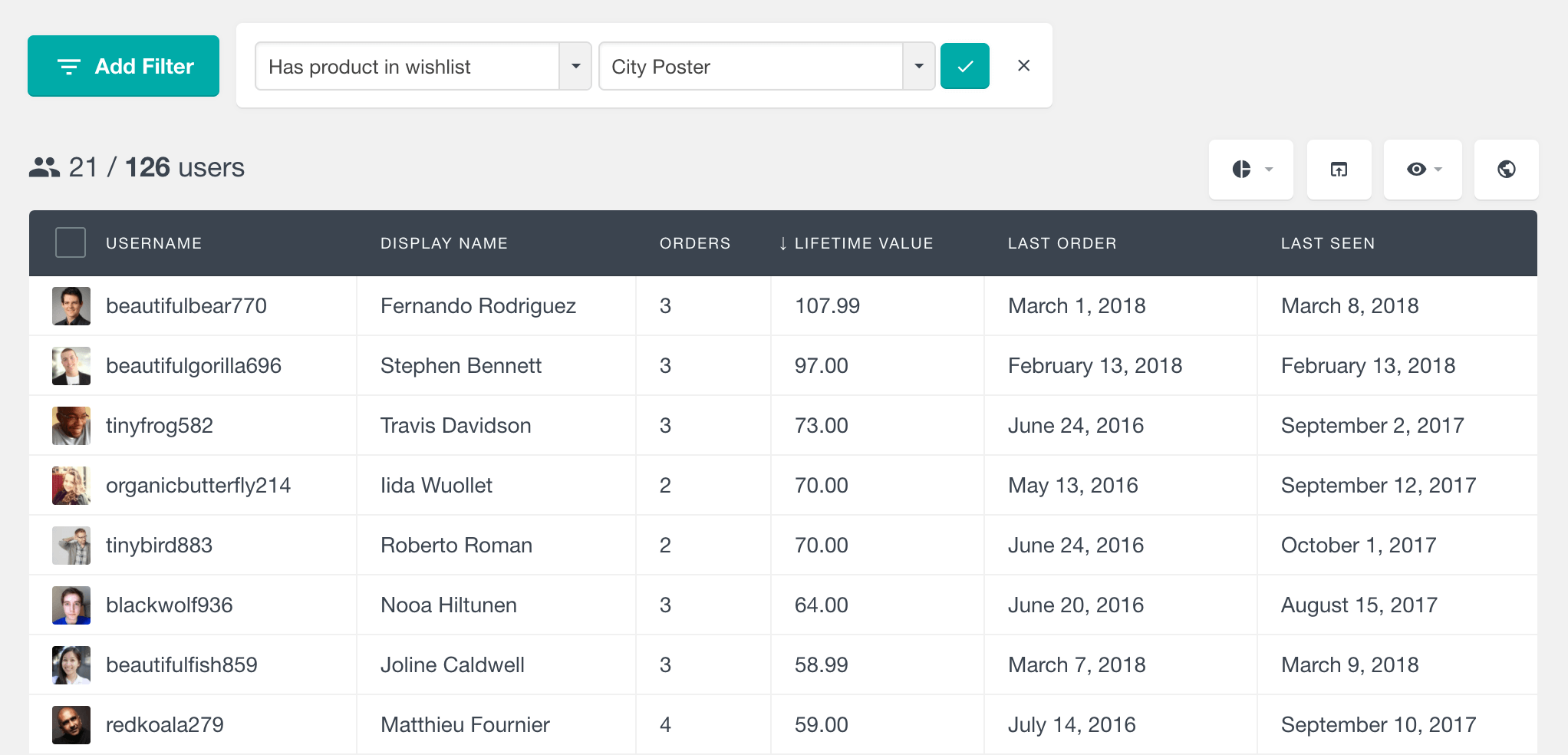 Easy Digital Downloads Earnings report
In this update we have also introduced an Earnings report for the Easy Digital Downloads module. It is available as a bar chart, that can help you understand your store's sales performance. You can visit the EDD Reports page to learn more about it.
New WooCommerce Subscriptions filter
Version 3.6.1 also introduces an "Is subscribed to [product]" filter as part of the WooCommerce subscriptions module. This filter can help you find all the users who have an active subscription for a selected product. You can read more about this feature on the WooCommerce Subscriptions page.
Event Tickets PayPal orders support
The Events Calendar team recently introduced a ticket sales feature via PayPal into the free Event Tickets plugin. Prior to this update, ticket sales could be only available by using the Event Tickets Plus plugin in combination with WooCommerce or Easy Digital Downloads. The first release of the Events Calendar module of Users Insights had out of the box support for the Event Tickets Plus plugin, allowing you to search and filter your users based on their ticket orders. With version 3.6.1 this integration is now extended to also support sales made by using the Event Tickets plugin via PayPal. To learn more, head over to the Events Calendar page.
Other changes
This update also includes some general improvements and minor bug fixes, such as:
Improved: BuddyPress module – when filtering a checkboxes or multiselect field, all the available options are now listed as a drop-down in the filter
Improved: Ultimate Member module – make the 10-star based rating reports show each rating in a separate bar, instead of combining them into ranges
Fixed: BuddyPress module – show only confirmed group users when filtering by BuddyPress group