5 Aspects for a perfect customer segmentation strategy
In business a well-defined customer segmentation strategy may be the difference between success and failure. Today we are going to learn how to apply different customer segmentation tools and techniques for better results in your store. We are also going to see the different approaches and what you can do with the segments you define, way beyond diversified email marketing.
Not all customers have the same needs or interests. In fact, it's very likely that your products or services resonate with a couple of different user groups. Therefore, knowing these customers and more importantly how to segment them is vital for better results. So, in order to have better results, you need to know the basics of WordPress user segmentation.
Our goal is to understand customer segmentation in the context of registered WordPress users. We are going to focus on segmentation tools that work better for WordPress and the way it stores the user data, however the main segmentation techniques can be also applied to any other platform. The main topics for today are:
Segmentation is a mindset
Getting to know your demographic groups
Find out if your site works for your customers
Discover your customers' interests
Filtering customers by marketing channel
Let's get right into it! Segmentation is a mindset
Trying to please everyone every time is a sure recipe to failure. That's why a customer segmentation strategy is so important. It allows you to speak directly to a smaller group of customers. So, you should consider that not all your decisions need to please all customers. They are much more effective if they resonate with a smaller group of customers.
Customer segmentation allows you to speak directly to a smaller group of customers.
But a big part of this is also the segmentation tools that you use. And when it comes to WordPress, there are different tools and techniques to keep in mind for better user segmentation. For example, when you install a plugin, it is important to know how it can help in this goal.
WooCommerce, for example, is a great plugin for creating an ecommerce, but it also allows you to store a great deal of information about your customers. Gravity forms is a great tool for collecting information, but it also allows you to store these submissions as custom fields, which are assigned to your users.
When creating your site or adding new features, keep in mind how they are going to help you segment your customers.
Getting to know your demographic groups
Undoubtedly, demographics are one of the most basic ways to segment your customers. When you consider the demographics as a customer segmentation strategy you can look into details such as:
Location
Language
Gender
Age
Education
Occupation
Company size
Company revenue
Average income
Marital status
Children
This is a snapshot of your current customers. If you know your ideal customer profile, segmenting your customer demographics tells you how close or far you are from them.
In order to implement the customer segmentation by demographics in a WordPress site, you need a reliable way to collect this information. The easiest way is collecting them in your order forms. For example, you can add custom fields to your WooCommerce checkout. Another idea is using customer surveys – you can do that with a plugin such as gravity forms.
After you have this information, a great customer segmentation tool is Users Insights. With it you can filter out customers from a specific demographic group, and perform your desired actions: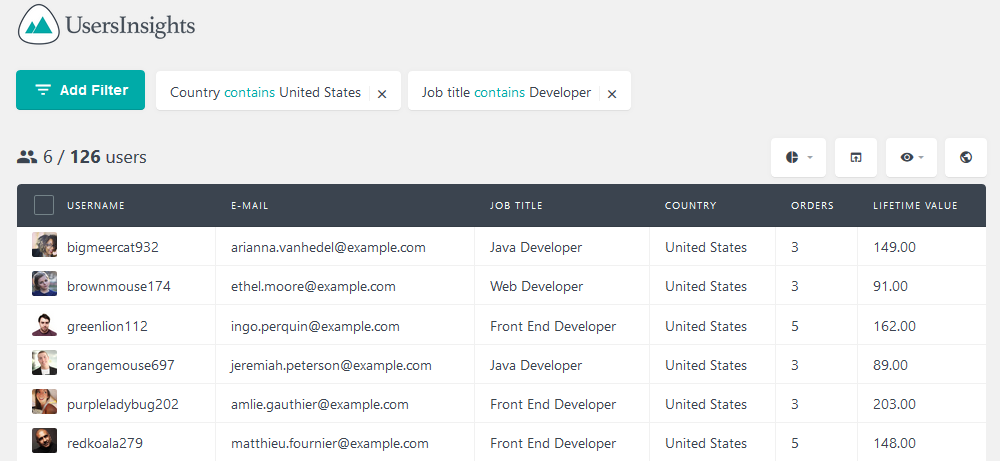 You can send these users specific content or products. For example, it would be great to have a course in Spanish for the customers from Spain.
Additionally, the demographics are a great modifier for the other customer segmentation techniques that we're about to discuss.
Find out if your site works for your customers
Another way to improve your customer segmentation is by platform. The customer segmentation by platform allows you to understand how well your site is performing across multiple devices and operating systems.
You can also segment customers based on connection type and access behaviors. If you discover that most of your customers are visiting your site for the first time, in a mobile device and using 4G you may as well optimize your site for that experience.
Overall the technology-related aspects can show you how your customer segments interact with you. In addition, this information can also be changed by other segmentation methods, so you can find that different demographics have different technology profiles as well.
This information is available in analytics platforms (such as Google Analytics) but can be also collected in your WordPress site as well. Users Insights has a Device Detection module that can detect and make this information available for you.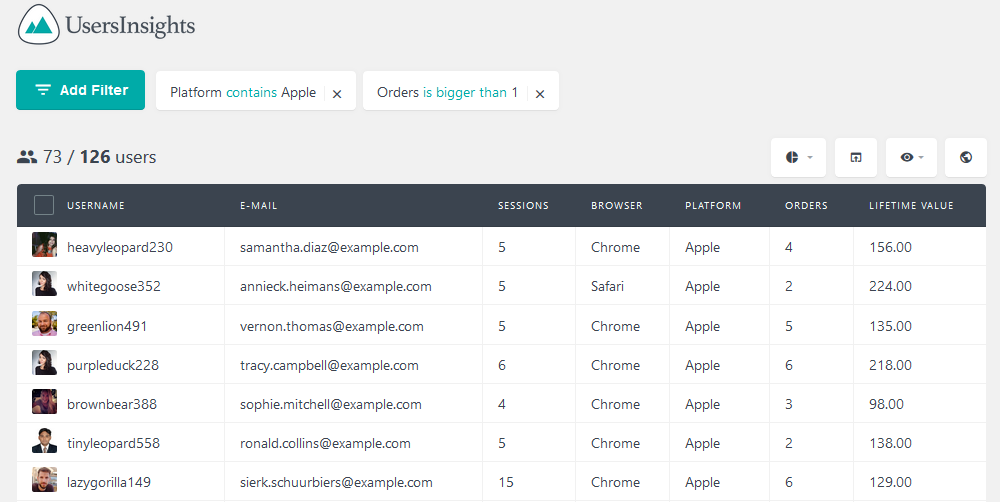 Discover your customers' interests
Customer interests are another important factor in customer segmentation. We can use them to group users, based on different products, categories or interests. This can help you offer products that are relevant to that user, taking into account demographics, platform, and interests.
Additionally, once you segment customers based on their interests, you get to know which products you should focus on. On the other hand, you'll also know which products you can stop developing, when there's a lack of potential.
Discovering customer interests may be complex if you have a small store, but tools such as wishlists or free samples can help you greatly determin where the real value is. A good campaign collecting information with WooCommerce or Gravity forms can help you segment your users.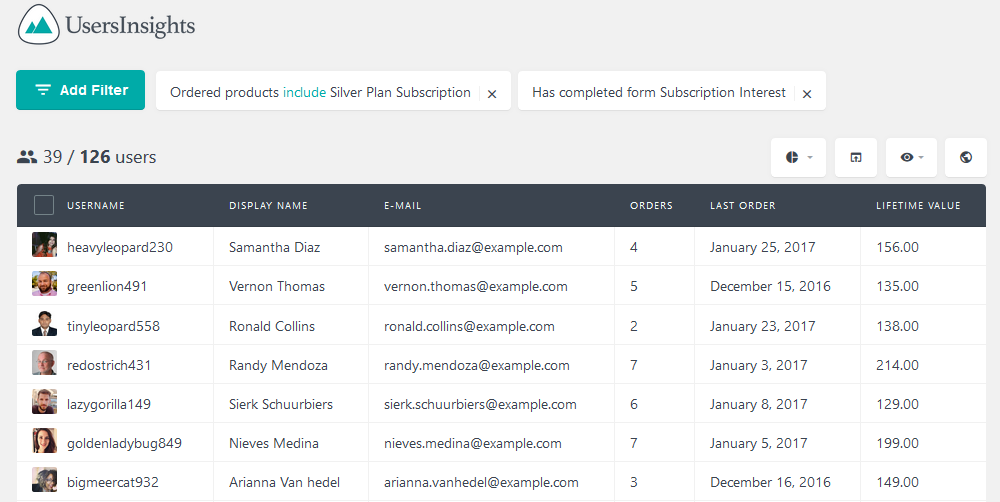 Filtering customers by marketing channel
Another important aspect of your customer segmentation strategy is your marketing channels.
There are many different marketing sources. Social media, SEO, SEM, affiliates, demos, cold calls. Each method has its own conversion rate, and each one brings a customer type to your site.
You can use many tools to register your users along with their marketing channel data. Once you know this information you can measure other aspects. You can measure different conversion rates across marketing channels. It's also possible to filter your demographics aspects of each marketing channel. In this way you can see that for each campaign you run, you are resonating to a customer type, and you can decide weather or not that's a good customer segment for you.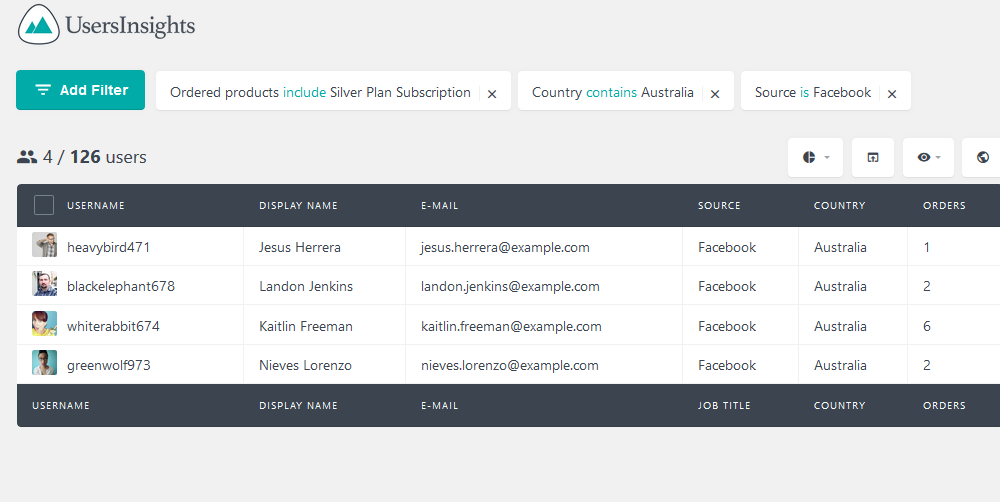 Conclusion
Today we looked into several different customer segmentation strategies. We discovered how to use different aspects of your customer-related information for better business insights. We also saw different methods of collecting and filtering this data, using plugins such as WooCommerce and Users Insights.
By the end of the day you should be able to segment your customers using different perspectives. You should also be able to take well informed decisions using this information. Once you apply the customer segmentation strategy described here, you'll know who your customers are, what their technologies and their interests are and where you can find them.
We hope you enjoyed it, and see you again next time!